Pet Cameras Bring Owners Piece of Mind
Are you concerned about your pet when you are away? Monitor their behavior with top rated pet camera. Now you can control your dog's behavior when away. You can observe all of this activity on your iPhone or Android Tablet.
Like most pet parents having control over their pets when they are away is vital to both of you. Dogs like to do things when you are away and if they can hear your voice it will help calm them during any situation.
When pet parents are at work, some pets whine which may indicate they suffer from separation anxiety. Some may have difficulty in adjusting or relaxing. The camera can help you focus in on the problem and get to the root of the cause.
The camera allows you to observe if your pet suffers from any of these problems by reviewing the footage. You will have a peace of mind knowing your dog is safe even when away. Some cameras will allow you to talk to your dog and even dispense treats throughout the day while away.
Some Benefits of A Pet Camera
Below are some benefits that a pet camera can provide for pet owners.
Monitor's Your Pet's Behavior. When you bring a puppy or dog home it may be difficult to know what may upset your dog especially when you are away. They may be experiencing some challenges you are not aware of. A pet camera can assist you in these situations. They can capture footage of your pet's behavior and you can take corrective action.
Let's You Interact When You Are Away. Some cameras are fitted with a speaker that allows pet owners to speak directly to their pets. If you should observe your pet becoming restless, you can speak to him to calm him down. If they should be misbehaving you can correct them with your voice. This is excellent technology allowing pet owners to interact with their pets while away and help pets that experience anxieties.
Entertain Your Pet. Some cameras have features that allow the owner to toss treats to their pet so they can reward their dog when they are behaving well. It's also a great way to give them a snack during the day. It also can provide you with some entertainment to see your pet at play with his favorite toy or toys.
Train Your Pet. A camera that distributes treats allows you to train your pet when you are away. You can give him a command to obey and the camera can dispense a treat when he obeys the command. It's a great way for you to interact with your pet when you are at work on your break.
Look for a camera that provides the features you need for your pet.
Know The Features You Need
When looking for a pet camera you need to know what features you actually need. Check out some of the main ones below.
Monitor Function
Dispenses Food or Treats
2-Way Audio
Dog or Person Activity Alert
Compatible With Alexa or Google Assistant
After looking over the above, select a camera that provides some or all of the above features.
Another advantage of a pet camera is knowing your dog is ok when you are away. Some cameras allow owners to talk to their pets, dispense treats, which will help your pet to relax and reduce stress. Knowing your dog is safe and not destructive will increase your productivity at work.
Shop Top Rated Pet Cameras
Below are the top 5 rated cameras for you to review. Find the one that best suits your needs. You will be taken to Amazon to place the order, read customer reviews and answered questions before purchasing.
#1. Furbo Dog Camera
Ratings: 21,481 Score: 4.6 Awards: Amazon's Choice ASIN: B01FXC7JWQ Model: Furbo2
Product Features:
Alert Type: Audio & Motion
Video Resolution: 1080p
Wireless Communication: Wi-Fi & Bluetooth
Barking Sensor: Yes
Viewing Angle: 160º wide angle view
Mic & Speaker: Yes
2-Way Audio: Yes
Toss Treats: Yes
Treat Tossing Schedule: Yes
Compatible With Alexa: Yes
Dog Activity Alert: Yes
Person Alert: Yes
Doggie Diary: Yes
Day/Night Vision: Yes
Full HD Camera: Yes
Works With: iOS 8.0 or Higher, Android Sandwich 4.0 or Higher, iPad, iPhone, Apple Watch, iPod Touch
Support:4GHz (802.11 b/g/n)
In The Box: Camera, USB Cable, Power Adaptor, Quick Start Guide
Warranty: 1-Year
#2. YI Indoor Wireless Camera
Ratings: 15,848 Score: 4.3 Awards: Amazon's Choice ASIN: B01CW4BLG8 Model: FBA_93005
Alert Type: Motion Only
Video Resolution: 1080p 20 fps
Wireless Communication: Wi-Fi
Barking Sensor: Yes
Viewing Angle: 112º wide angle view
Recording Time: 9 Days
Compatible With Alexa: Yes
Works With Google: Yes
2-Way Audio: Yes
Night Vision: Yes
Full HD Camera: Yes
Works With: iOS 8.0 or Higher, Android (Does not work with any iPhone)
Built-in Support: 11b/g/n 2.4Ghz (5Ghz not supported)
Warranty: 1-Year
#3. Petcube Pet Monitoring Camera
Ratings: 3,986 Score: 4.3 Awards: Amazon's Choice ASIN: B088C4NHRS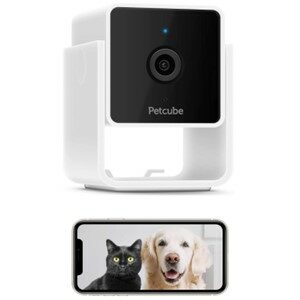 Product Features:
Alert Type: Audio & Motion
Video Resolution: 1080p (Wall Mounted)
Wireless Communication: Wi-Fi
Barking Sensor: Yes
Viewing Angle: 110º wide angle view
Compatible With Alexa: Yes
Sound & Motion Alerts: Yes
2-Way Audio: Yes
Night Vision: Yes, 30 Feet
Full HD Camera: Yes
Works With: iOS 11 or Higher, Android 7.1.2 or Higher
Built-in Support: 11b/g/n 2.4Ghz (5Ghz not supported)
Warranty: 1-Year
#4. Netvue Dog Camera
Ratings: 2,610 Score: 4.3 ASIN: B0899GLP7R Model: Mini Orb Camera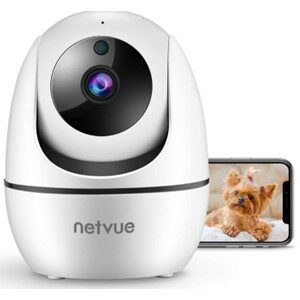 Product Features:
Alert Type: Motion Only
Video Resolution: 1080p HFD
Wireless Communication: Wi-Fi
Viewing Angle: 105º wide angle view
Motion Detection Alerts: Yes
2-Way Audio: Yes, Via Alexa
Storage: 128G Micro SD Card (Not Included)
Compatible With Alexa: Yes
Day/Night Vision: Yes
Full HD Camera: Yes
Compatible With: iOS 8.0 or Higher, Android 4.4.0 or Higher
Support: 2.4GHz (802.11 b/g/n) 5GHz not supported
Warranty: 2-Years
#5. Canary View Camera
Ratings: 2,567 Score: 4.3 ASIN: B078HGYKFF Awards: Amazon's Choice Model: CAN400USGY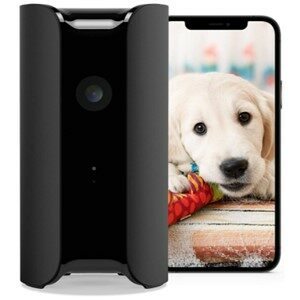 Product Features:
Alert Type: Motion Only
Video Resolution: 1080p
Wireless Communication: Wi-Fi & Bluetooth
Viewing Angle: 147º wide angle view
2-Way Audio: Yes
Video History: 30 Days Free Version (1 Year With Subscription)
Compatible With Alexa: Yes
Person Detection: Yes
Day/Night Vision: Yes
Full HD Camera: Yes
Compatible With: iOS 8.0 or Higher, iPhone 4S or Newer, iPad (2nd Generation or Newer), iPad Mini (1st Generation or Newer), iPod Touch (5th Generation or Newer)
SD Card Storage: Does not Have SD Card Slot
Support: 2.4GHz (802.11 b/g/n) 5GHz Not Supported
Warranty: 1-Year