Your Chewing Dog Has Met His Challenge!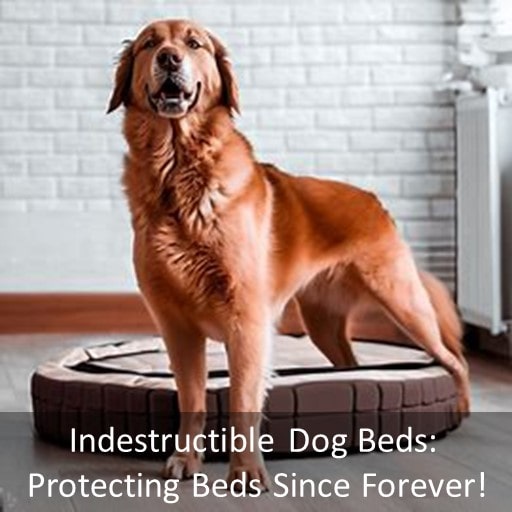 Introduction
Owning a dog comes with its fair share of challenges, and one of them is finding a dog bed that can withstand the destructive chewing habits of your furry friend. If you have a dog that loves to chew, investing in a durable and chew-resistant dog bed is essential. Not only will it provide your dog with a comfortable resting place, but it will also save you from constantly replacing torn and shredded beds. This is where the most indestructible dog beds for chewers is going help you in your search. With careful shopping, you should find some dog beds that are chew-resistant. Some manufactures also guarantee that their beds will withstand your dog's aggressive chewing and will refund or replace the bed within certain limits of the warranty. If you are a pet owner with an aggressive chewing dog breed, don't worry, you will find some relief here and a dog bed that will outlast your dog's chewing behavior. The top ten biggest chewing dog breeds are: Boxers, Labradors, Labradoodle, Chihuahua, Border Collie, Jack Russell's, Bulldog, Golden Retriever, Beagle and Weinmaraner. If you own one of these dog breeds, you will be challenged in keeping a dog bed from being destroyed. In this article, we will explore some of the best dog beds for chewers available in the market today. These beds are designed to withstand even the most persistent chewers while offering exceptional comfort and support.
The Best Indestructible Dog Beds
Now, let's look at the best dog beds for aggressive chewers.
K9 Ballistics Chew Proof Elevated Dog Bed
The K9 Ballistics Chew Proof Elevated Dog Bed is a popular choice among dog owners with chew-happy pets. Made with tough and durable materials, this bed is virtually indestructible. The elevated design helps keep your dog cool and prevents moisture buildup. The frame is constructed from aluminum (which is 100% recyclable), which is resistant to chewing, and the fabric is made from rip-stop ballistic nylon, known for its durability. The combination of these materials ensures that the bed can withstand even the most aggressive chewing. The bed has covered edges, and no loose material to chew on. Its designed to last longer.
This elevated bed also fits most standard crates which makes this bed very durable no matter how you use it. This bed is very easy to clean because of the ballistic nylon fibers. The material resists moisture, dirt, hair and grime. Just clean it using a damp cloth or water hose. From their website for those that are concerned about the environment: We've given new life to millions of plastic bottles, changing them into our soft, certified-safe recycled polyester fill. We've upcycled more than 4,299,139 bottles over the last 5 years alone, giving them new life and keeping them out of landfills longer. This bed can be purchased in the following sizes: small, medium, large, X-Large, XX-Large.
Kuranda Chew-Proof Dog Bed
The Kuranda Chew-Proof Dog Bed is another fantastic option for chewers. This bed features a sturdy frame made of high-quality aluminum and a durable Cordura fabric surface. The elevated design keeps your dog off the ground, providing comfort and preventing chewing damage.
The Cordura fabric is not only chew-resistant but also easy to clean, making it ideal for dogs prone to accidents. The bed is available in various sizes to accommodate different breeds and comes with a one-year warranty, reflecting the manufacturer's confidence in its durability. It has an orthopedic design. It has a premium fabric that is abrasion resistant, treated against UV and cleans easily. It also uses PVC so it won't rust. Comes in the following sizes outdoor sizes: Toy, Small, Medium, Large, X-Large, and XX-Large. Indoor sizes: Small, Medium, Large, X-Large, and XX-Large.
Gorilla Ballistic Tough Dog Bed
The Gorilla Ballistic Tough Dog Bed is specifically designed for dogs with a penchant for chewing. It is constructed using a two-layer system that combines a chew-proof ballistic nylon outer cover with an orthopedic foam base for added comfort.
The ballistic nylon material is known for its exceptional strength and resistance to tearing, making it a perfect choice for chewers. The bed is also waterproof, odor-resistant, mildew and mold resistant, dirt and water resistant, and easy to clean, ensuring long-lasting use. With its combination of durability and comfort, the Gorilla Ballistic Tough Dog Bed is an excellent investment for any chew-happy pup. Their beds also come with a lifetime warranty not to flatten. They have a 125 day replacement warranty if your dog chews through the cover. Their orthopedic dog beds also come with the CertiPUR-US seal for non-harmful chemicals or toxins being used in making their beds. The crate pads come in X-Small, Small, Medium, Large, X-Large, and XX-Large sizes.
Big Barker Orthopedic Dog Bed
While not specifically marketed as chew-proof, the Big Barker Orthopedic Dog Bed is renowned for its durability and long-lasting performance. It features a seven-inch-thick foam mattress, which provides excellent support and comfort for your dog's joints. The foam is designed to retain its shape and support over time, even with heavy use.
The bed's microfiber cover is machine washable, making it easy to keep clean, and smell resistant. It has an intuitive zipper design that has the zipper tucked in and seams sleekly incorporated to keep dogs comfortable. The fabric is designed to withstand rubbing, digging and nesting. Although not chew-proof, many owners have reported that the Big Barker bed withstands chewing better than most other options on the market. It's an ideal choice for dogs who need orthopedic support but may also engage in occasional chewing behavior. It comes with a 10-year won't flatten warranty and meets the CertiPUR-US standards for content, emissions, and durability as tested by independent laboratories. Bed sizes are Large, XL, XXL. The bed has three options: Headrest, Sofa, and Sleek. The beds are made exclusively for large dog breeds. All Big Barker dog beds are made in the USA, including all materials used in making the bed. This bed is the most expensive of those above. However, with the 10-year not to flatten guarantee, they are worth the price as you won't be replacing the bed.
What Makes These Best Dog Beds Indestructible for Chewers?
An indestructible dog bed designed for chewers should possess several key characteristics to withstand a dog's chewing habits. Here are some features to look for in a durable and chew-resistant dog bed:
Chew-resistant Materials: The bed should be constructed from tough, durable materials that can withstand chewing, such as ballistic nylon, reinforced canvas, or heavy-duty polyester. Avoid beds made from easily torn fabrics or materials that may pose a choking hazard to pets.
Reinforced seams: The bed should have reinforced stitching at stress points and seams to prevent unraveling or tearing when chewed on. Double or triple stitching is often used to enhance durability.
Elevated design: Elevated or raised dog beds can deter a dogs chewing behavior, as they are more difficult to reach and chew on compared to traditional flat beds. Look for beds with sturdy frames or structures that elevate the sleeping surface.
Chew-proof zippers and closures: If the bed has zippers or closures, they should be designed to be chew-resistant or hidden to prevent dogs from accessing and damaging them.
Inner cushion protection: Some dog beds have an inner cushion or mattress. Ensure that it is made from chew-resistant materials and has a strong, tear-resistant cover to withstand chewing.
Look For Warranties: Some manufactures offer warranties against chewing and the flattening of the bed. The chewing warranty will cover only for a short period of time from the date of purchase. The flattening of the bed can be guaranteed for up to 10 years with the Big Barker dog beds.
Conclusion
Finding the best dog bed for chewers can be a challenging task, but with the right information, you can make an informed decision. The dog beds mentioned above – the K9 Ballistics Chew Proof Elevated Dog Bed, Kuranda Chew-Proof Dog Bed, Gorilla Ballistic Tough Dog Bed, and Big Barker Orthopedic Dog Bed – offer exceptional durability, comfort, and resistance to chewing. Consider your dog's size, behavior, and specific needs when selecting a bed. Remember to introduce appropriate chew toys and training techniques to discourage destructive chewing habits. By investing in a high-quality chew-resistant dog bed, you not only provide your furry friend with a comfortable place to rest but also save yourself from constantly replacing destroyed beds. Ensure your dog's comfort and give yourself peace of mind by choosing one of these durable options designed to withstand the toughest chewers. Some of these beds offer warranties against flattening and chewing. Be sure to check them out before purchase.