Benefits of Dog Beds For Cars!
Introduction
Traveling with our furry friends is a delightful experience, but ensuring their comfort and safety is crucial. A dog bed designed for cars will help. These specialized dog beds for cars offer a range of benefits that not only enhance your pet's travel experience but also contributes to their overall well-being. There are car dog beds on the market for all sizes of dogs whether large or small. The bottom line here is that you want your dog to be safe whenever you travel whether they are short or going on long trips. In this article, we will explore the myriad advantages of using a dog bed for cars, also known as dog seats, highlighting how they provide comfort, support, and security for your beloved furry friend.
Optimal Comfort for Long Journeys
If you are taking a long car ride while on vacation with the family, it can be tiring and uncomfortable for your furry friend. They may struggle to find a suitable resting spot during the journey. It is important that they are taken care of while you are traveling. Dog beds for cars offer a solution to this problem by providing a cozy and cushioned surface for your pet to relax on while traveling.
These beds are often made with soft materials and plush padding, which ensures maximum comfort during an extend journey. With a dedicated bed, dogs can rest and sleep peacefully, reducing their stress levels and promoting a more enjoyable travel experience for everyone. Car seats allow dogs to sit up higher to see out the window. This is more comfortable for them compared to lying on the floor. The seats also provide cushioning.
Improved Safety and Security
A loose and unrestrained dog in a moving vehicle can be hazardous for both the pet, passengers and the driver. Dog beds designed for cars come equipped with safety features such as non-slip bottoms, adjustable straps, and secure harness attachments. To keep your dog safe whilst lounging, there are seat belt slits in the base to feed the car seat belt through to keep the bed in place.
These features help to keep the bed in place, there are seat belt slits, preventing your dog from slipping or sliding around the car while it is in motion. Additionally, some car beds are designed with raised sides or bolsters, providing a sense of security and preventing your pet from accidentally falling off the seat. Dog car seats restrain dogs and prevent them from being thrown around in the event of an accident or sudden stop. This reduces risk of injury.
Protection for Car Interiors
When you are traveling with your dog, if your dog has long fur or muddy paws, it can leave a mess in your car if they are not provided with a designated space. A dog bed acts as a protective barrier, shielding your car seats from dirt, hair, tears, scratches, and accidental spills. They are often easy to clean, with removable and machine-washable covers, making it convenient to maintain a clean and fresh environment for your dog and the passengers. Remember, car interiors are made for humans and not for dogs. Your goal is to make your dog comfortable as he travels and at the same time protect your car's interior.
Temperature Regulation
As most car owners know, car interiors can become excessively hot or cold, which can pose discomfort and potential health risks to your furry friend when traveling. Many dog beds for cars feature temperature-regulating properties, such as breathable materials, moisture-wicking capabilities, or insulating layers. These features help to maintain a comfortable temperature for your dog, which can help prevent overheating or excessive chilling during the journey.
Remember, never leave your dog in the car by himself when traveling. The inside of a vehicle parked in 70-degree Fahrenheit weather can reach 100 degrees Fahrenheit in just 20 minutes. On very hot days, temperatures inside parked cars can climb to 140 degrees Fahrenheit in less than one hour. Keeping your dog safe if you must leave him in the car without supervision. For the most part, it is okay to leave your dog in the car for no more than five minutes, as long as the outside temperature is above freezing and below 70 degrees.
Versatility and Portability
Dog beds designed for cars are often lightweight and portable, allowing for easy transport and use beyond car journeys. They can serve as multi-purpose beds, providing a familiar and comfortable spot for your dog wherever you go, such as hotel rooms, campsites, or visits to friends and family.
This versatility makes them a worthwhile investment for dog owners who frequently travel or have an active lifestyle. Be sure to invest in a car dog bed that will last and provide your dog comfort whenever you travel, even if it is going to the store.
Protection from Distractions
Drivers know how important it is not to be distracted while driving. This is especially true when traveling with pets. Car seats keep dogs contained so they are not able to distract the driver by climbing around the car. This helps you to maintain focus on the road which is important, and it also helps to keep them safe in the event of a sudden stop.
Crash Protection
One other important factor is a dog car seat offers crash protection. If an accident should occur, a secured dog car seat is less likely to collapse and provides crash protection that is similar to human car seats.
Anxiety Relief
As you know, dogs get very anxious when they are not in their normal surroundings. So if you should have a nervous dog they will often feel more secure in their own space when traveling. By have a dog car seat, they will provide your dog a sense of security.
Conclusion
By inventing in a dog bed specifically designed for car travel offers numerous benefits to both dogs and their owners. By providing optimal comfort, safety, and security, these beds ensure a pleasant and stress-free experience for pets during car journeys. Additionally, they protect car interiors, regulate temperatures, and offer versatility beyond car use. Prioritizing the well-being of our furry companions by providing them with a dedicated space in the car demonstrates your commitment to their happiness and reinforces the bond you have with them. One final tip, when looking for a dog car seat, be sure that the cover is removable for easy cleaning. So, the next time you should hit the road with your furry friend, consider the advantages of a dog bed for cars and make their travel experience a truly enjoyable one.
Shop Dog Car Seats
You can shop for the dog car seats by selecting an image below. You will be taken to Amazon where you can place the order. While there, you can read the customer reviews and answered questions about the product. As an Amazon associate, I earn from qualified purchases.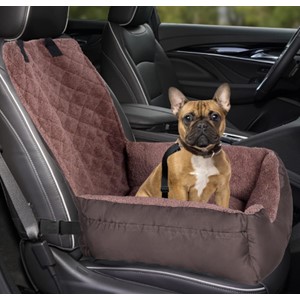 Bailary Car Dog Seat For Small Medium Dogs
Bailary Car Dog Seat For Small Medium Dogs
Bailary Car Dog Seat For Small Medium Dogs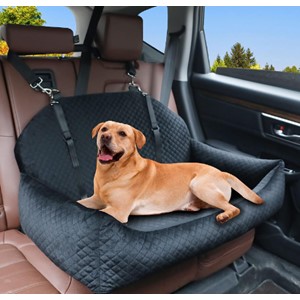 Vamtnner Dog Car Seat
Vamtnner Dog Car Seat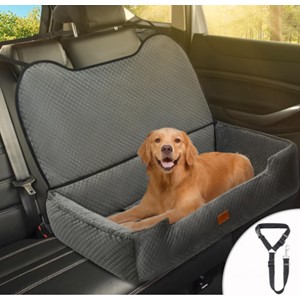 ELEGX Dog Car Seat Large Dogs
ELEGX Dog Car Seat Large Dogs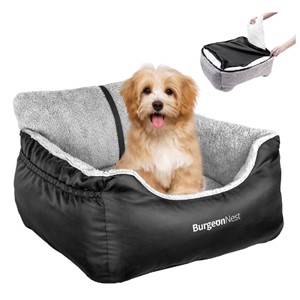 BurgeonNest Car Seat Small Dogs Black
BurgeonNest Car Seat Small Dogs Black
BurgeonNest Car Seat Small Dogs Black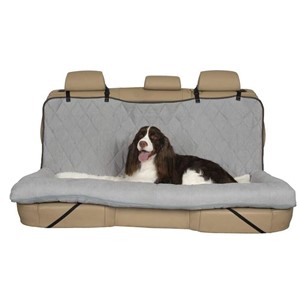 PetSafe Car Seat For All Dogs Grey
PetSafe Car Seat For All Dogs Grey
PetSafe Car Seat For All Dogs Grey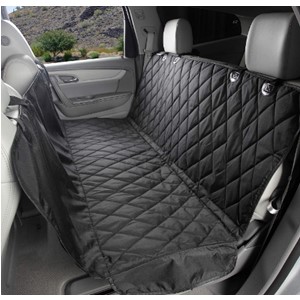 4KNines Dog Seat Cover for SUVS
4KNines Dog Seat Cover for SUVS
4KNines Dog Seat Cover for SUVS
Go back to the Dog Luxury Beds home page.
Related Articles
Below are some articles that you might be interested in.