Orthopedic Dog Beds Small Dogs
Help My Aching Muscles!
I Need An Orthopedic Dog Bed!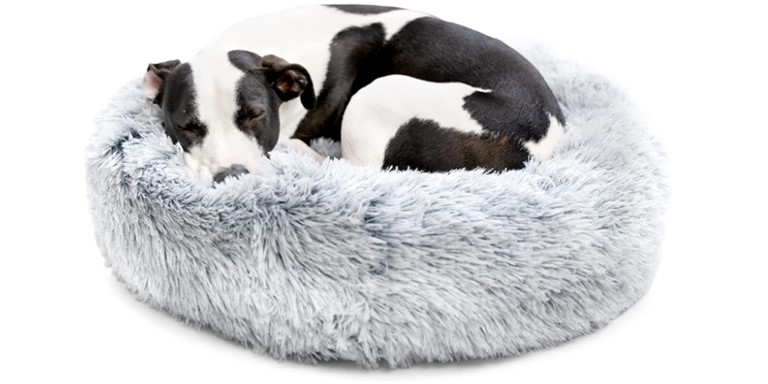 Introduction
You may have heard of the old saying "dogs are a man's best friend" so said by Fredrick the Great in 1789, and a poem that was written by author Odgen Nash. Many pet owners will probably agree with Fredrick the Great. Orthopedic dog beds small dogs will provide pet parents with excellent selections of dog beds for their pets. This will keep their best friend comfortable, safe and secure.
You can check out our other article Rectangular Orthopedic Dog Beds made in USA.
For dogs to be classified as a small dog it must weigh 25 lbs. or less and be shorter than 16 inches in height. There are many breeds of dogs that are considered small. However, each breed of dog will come with a different personality. For instance, some breeds of small dogs can learn commands easily while others will be a challenge and may take more time.
Buying the right size dog bed is key for your dog's comfort. To choose the proper bed you need to know the following:
His Height
His Length
His Weight
His Sleeping Style
His Habits
By knowing these facts about your dog should help you get started in the dog bed selection process.
Video- 16 Clues To Understand Your Dog Better
Below is a short video on 16 things that will help you to understand your dog better. Take a look!
Listing of The Top 25 Smallest Dog Breeds
With so many small dog breeds in the world, we have selected the top twenty five breeds for your consideration. Included is a brief summary of their traits.
Affenpinscher – Mischievous personality, challenge to train
Brussels Griffon – Easy to train & social friendly
Cavalier King Charles Spaniel – Easy to train & energetic
Chihuahua – Loyal and loves to run and play
Chinese Crested – Playful, loving & devoted
Dachshund – Lively & friendly
English Toy Spaniel – Plays will with children and a good companion with a hunting instinct
Havanese – Friendly, energetic, and a good watchdog
Italian Greyhound – Loyal, affectionate, and needs attention in cold weather
Japanese Chin – Self-groomers and quiet, quick to learn
Maltese – Feisty watchdogs, low-shedding, likes to make friends
Miniature Pinscher – Bond tightly with owners, vocal, and great watchdogs
Norfolk Terrier – Feisty, adventurous personality, & confident
Norwich Terrier – Tough and fearless ratters
Papillon – Friendly, happy, alert, comfortable in an apartment
Pekingese – Good-natured, affectionate and good for an apartment
Pomeranian – Great watchdogs, cuddy companions and playful
Pug – Playful and affectionate
Schipperke – Watchdoog, companion and ratter & has a mind of his own
Shih Tzu – Good companion, lively and friendly
Silky Terrier – Spirited, Prey-driven, and independent
Toy Fox Terrier – Outgoing, friendly, and loyal to families
Toy Manchester Terrier – Hunts rats, efficient worker in finding rodents
Toy Poodle – Smart, excels in dog sport activities
Yorkshire Terrier – Confident personality, great in dog sports, and good travel companions, loyal to owners, reliable watchdogs
The Weight Categories By Dog Breed
The list below shows the approximate weights for the dog sizes to help you in choosing the correct bed for your dog.
 1) Extra Small from 1 to 10 pounds.
2) Small from 11 to 25 pounds.
3) Medium from 26 to 50 pounds.
4) Large from 51 to 75 pounds.
5) Extra Large from 76 to 90 pounds.
6) Extra Extra Large from 91 to 110 pounds.
7) Giant, Jumbo 111 and above.
By knowing your dog's adult weight you can select the appropriate dog bed for his size.
What Is An Orthopedic Dog Bed?
Real orthopedic beds are made with memory foam that consists of 2 to 4 inches and has a support layer anywhere from 2 to 4 inches which prevents the pet's body from sinking down to the floor. Memory foam beds make a great choice for dogs of any age as they provide a good night's sleep. They also alleviate aches and pains in elderly dogs as they can suffer from conditions such as arthritis, hip dysplasia, and joint and muscle pain.
Orthopedic dog beds provides relief from arthritis, aching joints and hip dysplasia and other muscle issues. As pets age, they should have an orthopedic dog bed. Orthopedic dog beds are the best bed for your dog period. These beds are known for increasing the health of your dog. A memory foam dog bed will help make sleeping and resting less painful by providing a thicker mattress to sleep on and reduce pressure around the joints by distributing their weight using memory foam technology.
Many small dog beds have materials such as fleece, flannel, denim, faux suede or microfiber. They can contain a polyester filling or a foam padding. Some beds can be filled with cedar chips that deters odors and insects. When looking for small dog beds you also want bed covers that are machine washable, the bottom is non-slip, and the cover is water resistant.
Memory Foam Is Made Of
Memory foam is made of polyurethane foam. It consists of polyurethane as well as additional chemicals that increases its viscosity and density. Memory foam starts as polyurethane foam – a material manufactured in the 1950s. Add water, halocarbons, or hydrocarbons to a polyurethane mixture. The foam rises like bread, with an open cell structure that helps give it its unique ability to spring back slowly when pressure is applied.
When looking at memory foam bed be sure is has the CertiPUR-US Certification. This means that the foam was made completely in the United States and not from China or any other country. Foam made outside of the USA can be made with some very toxic and harmful chemicals which are not healthy. This can cause some health issues for the dog, the owner and other family members.
How Does Memory Foam Work?
Memory foam dog beds are designed to slowly mold to the body in response to pressure, and therefore to evenly distribute body weight. They are also designed to be resilient, and to return to their original shape once body weight and pressure is removed.
Memory foam responds differently depending on how you apply pressure, or "force". If you apply pressure quickly, the foam tends to change shape more slowly, or "reluctantly." This means that memory foam is excellent at absorbing the force of an impact. When memory foam is used as a mattress or dog bed material, this quality helps the mattress cushion the body evenly, and creates the slow contouring feeling as the mattress adapts to the impact of your pets body and re-forms around his curves.
Memory foam also returns relatively slowly to its original shape when force is removed–on average, around 5-10 seconds. During this recovery period, energy from the impact is absorbed and dissipated. This time lag, a phenomenon known as "hysteresis", also helps cushion sleepers, because it removes some of the pressure (or, impact energy) produced by the prone body.
Another important part of how memory foam works is that its viscosity decreases with temperature. This means that it becomes less stiff and more flexible the hotter it gets. This is the reason why memory foam beds feel softer or more pliable after lying on them for a time, since the dog's body heat increases the temperature of the sleep surface.
Memory Foam Construction
Memory foam is used in mattresses and dog beds in several different ways. For one thing, different memory foam mattresses have different constructions designed to achieve specific qualities. However, there is a basic template that most memory foam mattresses follow, even if the unique components differ. That template has three components:
Comfort Layer: This top section of the bed is composed of one or more foam layers that are generally designed to provide contouring and cushioning, depending on the level of firmness. Many bed designs use more breathable foams in this section, in order to keep heat away from the sleeping surface.
Transition Layer: This section of the mattress or bed is composed of one or more foam layers meant to work between the comfort layers and the core. They tend to be slightly firmer than the foam in the comfort levels, and often help wick heat away from the comfort layer.
Core: This is the base of the mattress or bed. It is often composed of much firmer foam, and is the largest layer, usually by far. It provides stability and support to the mattress through the other foam layers. In some beds, called hybrid beds, the core is not foam, but rather is the same sort of core you would find on an innerspring beds. This tends to provide additional support, bounce, and ventilation.
All orthopedic dog beds with memory foam will conform to the information stated above. The heavier the dog the more memory foam will be used. For small weighing dogs, less memory foam be used on these beds.
Small Dog Bed Types
Knowing your dog's breed, habits, and sleeping style, will help you choose the right bed type for your dog. Let's take a look at some of these choices.
Orthopedic Memory Foam Bed. These beds are rectangular, round, and bolster. Rectangular beds are an excellent choice for dogs that like to stretch out or sleep on their back. Bolster beds provide support to their back and head and are for dogs that like to nest. Round beds are great choices for dogs that like to curl when sleeping. Orthopedic beds are good for dogs that suffer from joint and muscle pain and arthritis.
Self-Warming Bolster Bed. Self-warming bolster beds uses the dog's body heat to keep them warm and cozy. This bed is good for dogs with thin coats and live in cooler climates. This bed is excellent for dogs that like something secure for their body or lay their head on something while they sleep.
Deep Dish Bolster Bed. This bed is an excellent choice for dogs that like to cuddle or nest. They are soft and molds around the pet's body. These beds are not recommended for dogs that are aggressive chewers.
Cozy Cave Bed. This bed is a great choice for dogs that like to snuggle and likes a covering. These beds keep pets warm and cozy. They are made with soft Sherpa interior, microsuede interior, and can be stuffed with soft polyester filling with some cedar to keep odors out and pests away.
Elevated Beds. Elevated beds keeps pets off the ground. They are made of strong material and hold up against strong chewers. They are excellent for dogs living in hot climates as the air circulates under them to keep them cool.
Heated Beds. Heated beds are for dogs that are outdoors and live in cold climates. These beds are rectangular and come in various sizes. These beds are usually for larger size dog breeds.
Conclusion
With the above information, you now know what orthopedic memory form is, what it's made of, how it works, and its importance to the health of your dog. We shared some facts you need to know about your dog before you begin shopping for a dog bed for your small dog. Some of these included: height, weight, size, breed, habits & sleeping style.
By knowing this information will guide you on your way in selecting the proper bed for your dog.
–
Shop Orthopedic Dog Beds For Small Dogs
The following orthopedic dog bed brands sell beds for small dogs that are under 25 pounds. Match your dog's sleeping style with the brand's bed below. Just click on the bed of interest and you will be able to purchase the bed on Amazon. While there, you can read all of the customer reviews and answered question before making any commitment to purchase.
You can also check out our other quick shop article on orthopedic bolster dog beds.
Most Brands Offer Choices of Colors and Sizes.
BarkBox Rectangular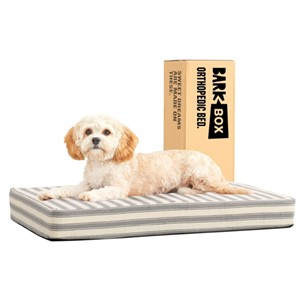 BarksBar Bolster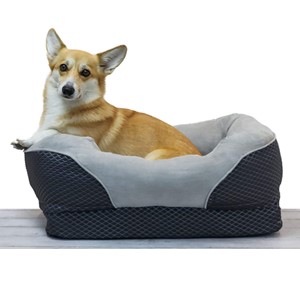 BDEUS Bolster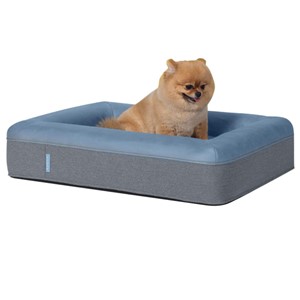 Best Friends by Sheri Deep Dish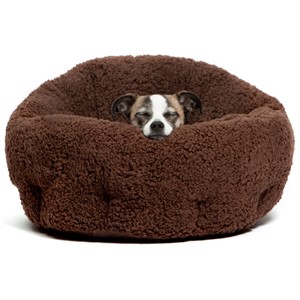 Best Friends by Sheri Donut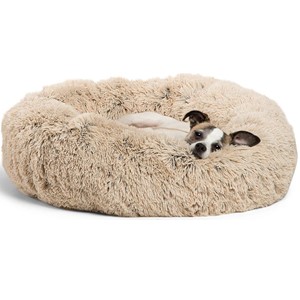 Brindle Bolster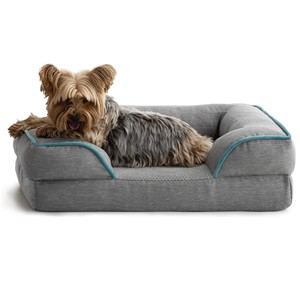 Brindle Rectangular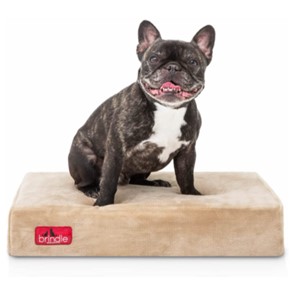 COHOME Donut Cuddler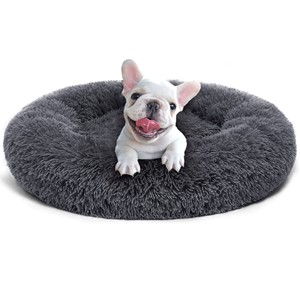 DogBed4Less Rectangular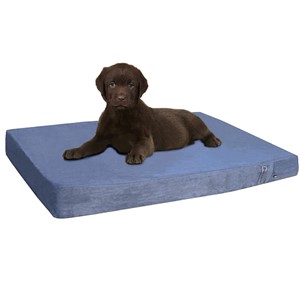 EMME Donut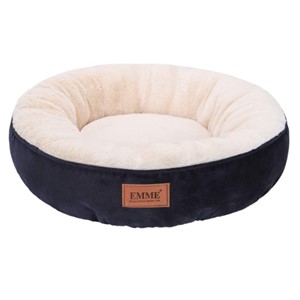 EMME Bolster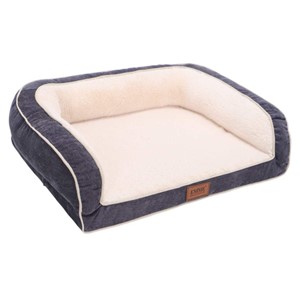 FocusPet Rectangular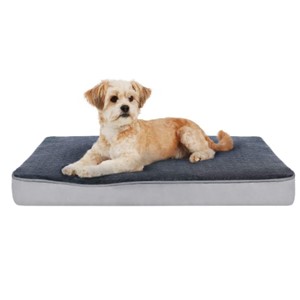 FocusPet Donut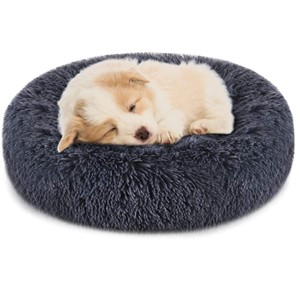 Furhaven Pet Bolster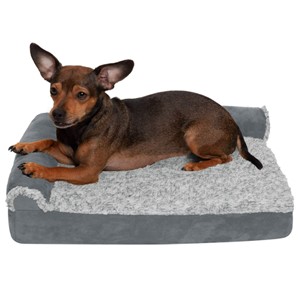 Furhaven Pet Round Cave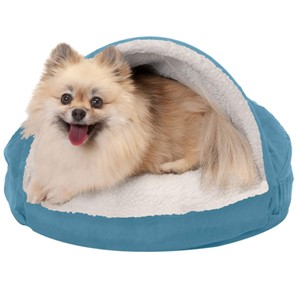 Furhaven Pet Self-Warming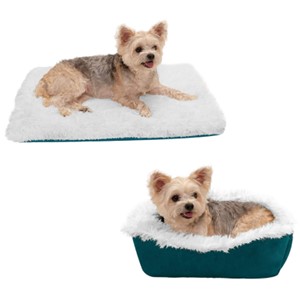 Furhaven Pet Calming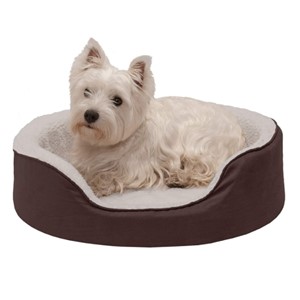 Go Pet Club Rectangular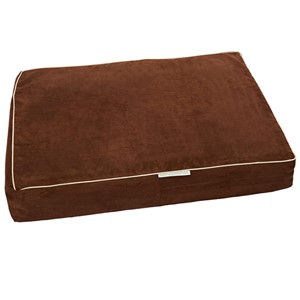 GM Pet Supplies Donut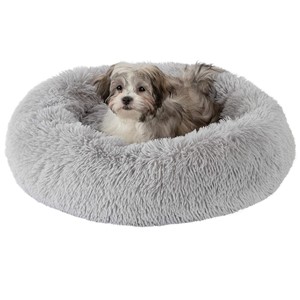 K&H Pet Self-Warming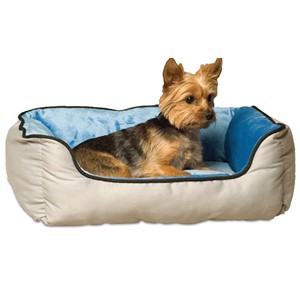 Kopeks Rectangular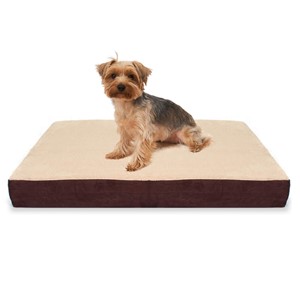 KROSER Self-Warming Bolster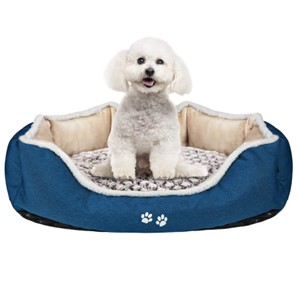 KROSER Self-Warming Donut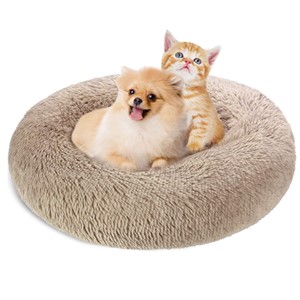 Lalipoda Donut Cuddler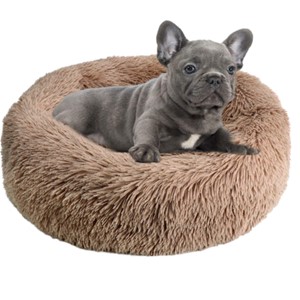 Millard Rectangular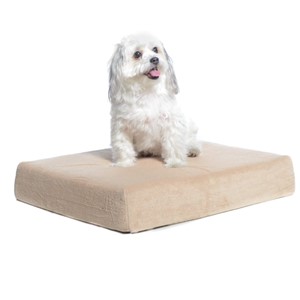 MIXJOY Donut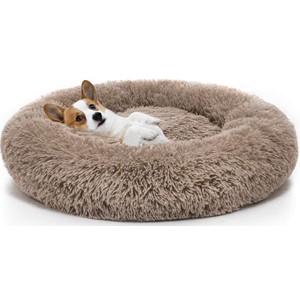 Pet Deluxe Bolster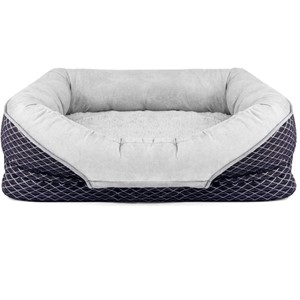 PETMAKER Rectangular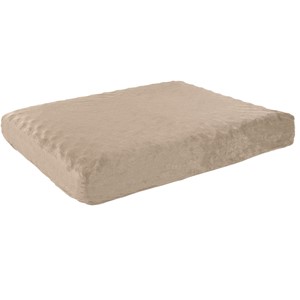 Purple Rectangular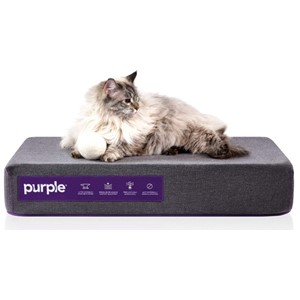 Sealy Bolster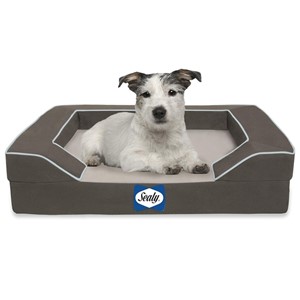 Snoozer Cuddler Cave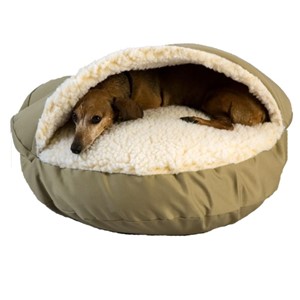 The Dog's Bed Rectangular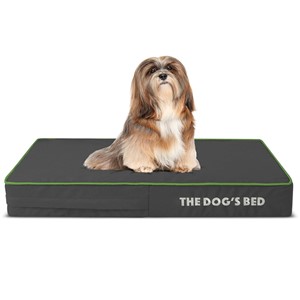 The Dog's Bed Bolster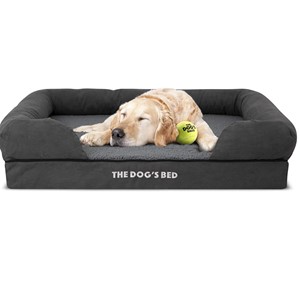 Go back to the Dog Luxury Beds home page.