Orthopedic Dog Beds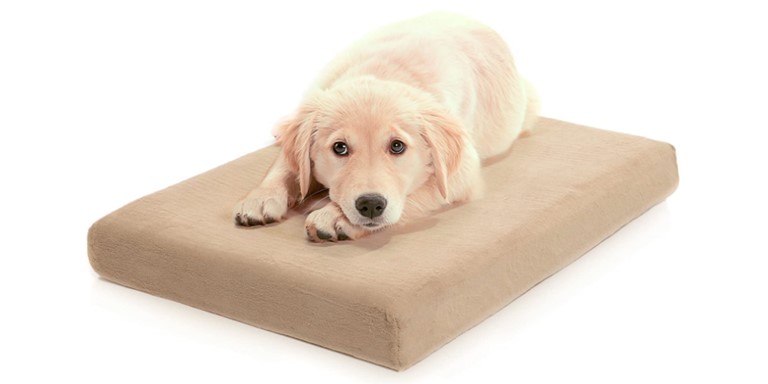 Comfort Dogs Suffering From Joint Pain
As your dog ages, he can develop aching muscles, joint pain and arthritis. An orthopedic dog bed is the cure he is looking for to ease those aching muscles and joints.
If your dog is a large breed, you need to find an orthopedic bed that will not flatten out over time because of his weight. Some orthopedic brands come with a warranty that they will not flatten out or your money back.
Buying an orthopedic dog bed will be more expensive than regular dog beds. If your budget can afford it, it just might be the best thing you can do for your loving pet.
When considering a bed, be sure to purchase one that he can grow into if he is a puppy. You don't want to put out a lot of money only to find a year later he has out grown it. So, purchase a bed that will fit him when he is an adult dog. Check with your vet if you don't know his full adult size.
Benefits of Orthopedic Dog Beds
The question you may be asking is an orthopedic dog bed beneficial to my dog? The answer is an overwhelming yes. We will provide some benefits of orthopedic dog beds below.
Be sure the bed is a genuine orthopedic dog bed: These beds are made with memory foam. Some beds are made with egg-crate foam, foam chips, polyester fiber, and medical-grade hospital foam. These materials are not orthopedic. Beware of the materials used when purchasing an orthopedic bed.
Sleep in comfort: Your pet will sleep in comfort because they sleep more than 12 hours a day. If your pet suffers from arthritis, joint or muscle pain, these beds are made for them.
Promotes joint health: Orthopedic dog beds are not only for dogs that suffer from joint pain and arthritis, but is an excellent choice for all dogs. These beds promote joint health by preventing joint problems in dogs. As he gets older, these beds will continue to promote good joint health and provide him a comfortable night's sleep. We highly recommend orthopedic dog beds right from the start. They will prevent common joint problems aging dogs experience.
Alleviate pain: 

Orthopedic dog beds are very helpful for dogs who suffer from joint problems. The fact is, as dogs grow old, they are highly vulnerable to canine arthritis. And that's not all, older dogs also suffer from hip dysplasia, bone injuries, soft tissue injuries, muscle loss, and other joint problems. Orthopedic dog beds actually help alleviate the pain dogs feel through the support and cushioning of memory foam beds.

Because of their weight, large dogs also suffer from joint pain. Orthopedic dog beds gives them the comfort they need.
Helps relieve pressure points: Memory foam beds helps alleviate pain dogs experience from joint problems.

Memory foam conforms to a dog's body and this helps distribute your dog's weight evenly throughout the foam or mattress. When a dog's weight is evenly distributed, the pressure on those pressure points is relieved, especially in the joints and hip area.

Eliminates stiff joints. If your pet sleeps on the floor, it will stiffen his joints. When he wakes up he will feel the stiffness in the joints. If they keep sleeping on the hard floor it's only a matter of time when they experience the pressure. The bottom line here is getting him off the floor and into something more comfortable.
Gets your dog off the couch or bed: The reason why dogs like to sleep on a couch or bed because it's soft and comfortable. With his own bed you can sleep better yourself.
Disadvantages of Orthopedic Dog Beds
Just as we provided you some advantages of orthopedic dog beds, we now provides you a list of the disadvantages.
Orthopedic dog beds are expensive: If your dog does not have arthritis or some other joint condition, orthopedic beds are very expensive. The bigger your dog the more expensive the bed becomes. However, the investment of these beds are worth it if your dog does suffer from arthritis or joint and muscle condition. Also, as your dog ages, they will experience some joint pain.
Selecting the right memory foam bed: The first important factor is selecting the bed is right size. You want a bed that will support his stretched out sleeping style. Buying an incorrect size bed may cause more problems like cramping, and make any joint problems more uncomfortable. Consider the number of memory foam layers and their thickness. The thicker the better. The second factor is density.

Many of the cheap beds available are low density, or some have a low density layer topped with a high density layer. Generally, the higher density memory foam is firmer and provides better comfort for dogs with joint problems. Lower density beds are more subject to wear and tear and will provide a less comfortable sleep and will flatten out over time with heavier dog breeds.
By following these tips, you should be able to find the correct orthopedic bed for your dog.
Shop Orthopedic Dog Beds
Below are some of the best orthopedic bed brands to choose from. Select or click on any image where you will be taken to Amazon to place the order. While there, you can read all of the reviews and answered questions. You will also have the option in selecting the size and color.
–
–
–