Organic Beds Emit No Odors or Toxins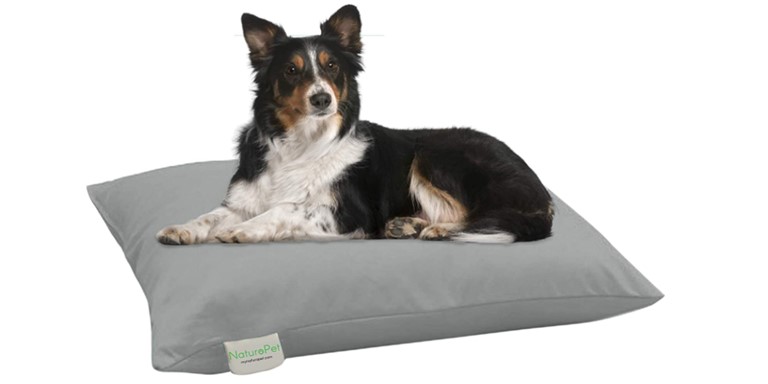 Organic dog beds made in USA are good for dogs because they are made with high quality materials. Which is what to look for because they are best for your dog. Dog beds made in China for example are not made with the highest quality materials and probably are made with toxic chemicals which are bad for animals and humans. Most Americans don't know what really is in the materials that are used in making dog beds. They look for the cheapest price and move on.
In this article, we hope to change that thinking.
We also have another article about orthopedic dog beds made in the USA. Just click on the link to read all about it.
Video – What To Look For In A Pet Bed
This is a short video that Dr. Becker advises dog owners to look for in a dog bed.
What Are Organic Dog Beds?
Organic dog beds are made with no harmful toxic chemicals or materials. An organic dog bed is 100% GOTS (Global Organic Textile Standard) seal on the packaging. This means the bed is anti-odor, biodegradable, and naturally hypoallergenic and antimicrobial. The beds may say all-natural, eco-friendly or organic. Look for those words somewhere on the packaging.
Another seal you might find on the packaging is GOLS (Global Organic Latex Standard). If you find this seal it means is concentrates on human health, safety and welfare, and environment during the manufacturing process of organic latex products.
If you don't find any of these seals or words on the packaging, it means the materials used in making the bed may contain some harmful toxins or chemicals. Look for the seals of the latex and textile standards.
What Are China's Dog Beds Made Of?
They are made with cheap materials with most of the fiber, foam beds are produced with toxic chemicals in them. These chemicals slowly pollute your home and places your pet's health at risk because China has lower quality standards.
The majority of dog beds sold in the USA are made in China. Since your furry friend spends so much time on their bed, between 12-14 hours for adult dogs and up to 20 hours for puppies, it's crucial to properly research the materials used in making the bed and where it's produced.
What's Wrong With Chinese Dog Beds?
The manufacturer's in China cut corners by using cheap materials and toxic substances and fillers in their foam for years. Their country does not regulate the terms and safety regulations in the manufacturing of dog beds. Plus, they have lower quality standards than in the United States.
The beds in China are cheaply made and some harmful chemicals may be present such as flame-retardants, hormone disrupting substances, VOC's, pesticide residues, and others. The foam that is produced there may contain toxic chemicals like arsenic, formaldehyde, lead, bromine, PBDE's, and mercury to name a few. These chemicals can be very harmful and dangerous to both humans and pets.
These fillers can pollute your home and put everyone's health at risk. Also, Chinese manufactures are not required to disclose any of the hazardous substances used in making their dog beds. So, when you bring home a bed from any pet store in the United States, and the bed is made in China, you may experience some health issues because of the harmful materials used in making the bed.
Your best bet is to stick with dog beds made in the United States. This even goes for orthopedic dog beds too. We concede that dog beds made in China are less expensive than those made in the USA. But, beds made in the USA are a lot safer and will not pose any health risks to pets and family members.
Factors To Consider In Choosing A Dog Bed
As you prepare to shop for a dog bed, you can do some homework prior to purchasing a bed for your dog. Below are some factors to consider:
Natural & Durable Materials. These materials are responsibly sourced natural materials and will not contain any non-toxic chemicals. Durable materials means the bed will keep its shape and not flatten out as your dog ages.
Supportive Comfort. Look for bed that will provide relieve to your pet's pressure points and cushion your pet's body to provide relief from arthritis, muscle stiffness, hip dysplasia and other health issues.
Look for beds made with the certified organic and natural materials which ensures they are safe for your pet and the environment. This certification means the beds will not contain lead, formaldehyde, arsenic, chlorine or other harmful substances.
Well Crafted. Do your homework first in researching the company you are going to buy a bed from. Look for companies that disclose the materials used in making their dog beds and the manufacturing location. Also, look for those companies have good reputations.
Conclusion
Dog beds that are made in China are dangerous because of relaxed standards used in making their dog beds. Their beds may contain harmful toxins and materials made with harmful chemicals.
Look for dog beds made from reputable companies that disclose the materials used in making their beds and the manufacturing location.
Be sure to do your homework first before committing on purchasing any dog bed. Your pet's health is at stake.
We mentioned looking for the GOLS and GOTS seals on the packaging. This seal tells you that the materials and manufacturing of the bed is truly organic and will not harm your pet or members of the household.
Finally, most dog beds made in China will probably be cheaper than those made in the United States. As a dog parent, you owe it to yourself to purchase the best dog bed for your dog even if it means paying a little more. Remember, your pet's health is important and if the bed should emit odors, they may be harmful to everyone in the house or apartment.
Shop Organic Dog Beds
You can shop for organic dog beds by selecting any image. You will be taken to Amazon where you can place the order, read customer reviews, and answered questions.
–
–
Go back to the Dog Luxury Bed home page.