K9 Ballistics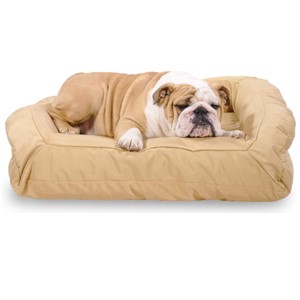 Provide high quality dog beds at affordable prices. Make dog beds that stand an aggressive chewing dog and guarantee it for 120 days. Our beds are made to withstand dogs that like to chew.
Company Info
Brand: K9 Ballistics
Company: K9 Ballistics Inc.
Established:
Location: 708 Via Alondra Camarillo, CA 93012-8713
Contact: 1-(844)-772-3125
Company Slogan: The World's Toughest Dog Beds
Company Ownership: Male Owned with 28 employees
Product Lines: Beds, Orthopedic Beds, Pads, Elevated Beds
Our company began with two roommates at the Tulane University and began designing and selling incredible dog beds. We are still an independent company putting out chew-proof dog beds. We offer beds for small to XX-Large and chew resistant elevated dog beds.
Shop K9 Ballistics Dog Beds
You can shop K9 Ballistics dog beds by selecting or clicking on any bed of interest. You will be taken to Amazon where you can read the customer reviews and answered questions. You can also place the order and on some beds select the size and color.