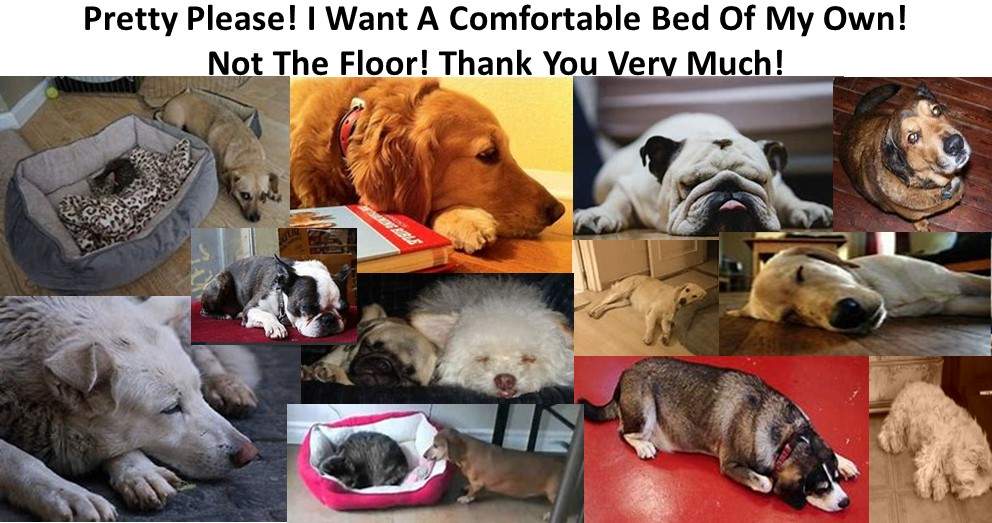 Are you wondering how to buy a dog bed? Making the decision is not as simple as you may think. There are so many shapes, styles and brands and each has different features. And of course your goal is to buy one that your dog likes. The easiest way would be to take your dog online or in the store and have them sleep for a night and see how they like each one and which is their favorite.
But of course that is unrealistic and our dogs cannot talk to us, but if they could, they would certainly tell us what dog bed they want. Dogs are smart. They know the right dog bed feels so good and they remember their owner telling them a dog bed is an excellent way to maintain and improve their overall health.
So How Do We Approach This?
There is something we can do. We can watch our dog's current sleeping style and behavior because it gives us many clues. And we can follow the advice of dog sleep studies. But there are still so many other things to consider.
Use Our Dog Bed Buying Guide To Find Some Help.
How To Buy A Dog Bed
As dog owners we can successfully buy the best dog bed if we consider our pet's unique comfort factors, and match the comfort factors to the various bed names, bed types and choose one of the best brands.
So let's look at the details.
How To Buy A Comfortable Dog Bed
Just like humans, dogs want something comfortable, temperature controlled, designed to accommodate their sleeping position, and something that is correctly sized. If we consider these four factors we will have much better buying success and make our dog happy.
Let's look at each one of these factors.
So what does a comfortable, temperature controlled, designed for sleeping position and properly sized dog bed look like?
–
Dog Bed Inside Filler Comfort
One would think a soft fluffy bed means comfort, but that is not the case. Generally speaking, dogs like something that is more firm but not as hard as the floor obviously. They feel their bones and muscles like we do; they want support. The larger the dog the more important support is, but small dogs prefer support as well.
All fillers give comfort right? The filler inside the outer cover gives the bed firmness; however poor quality bunches and is totally uncomfortable.
Memory foam is comfortable because it conforms to the dogs shape and high quality memory foam retains its shape much longer than a year. Therapeutic memory foam has a layer of memory foam on the top and a layer of high quality support foam beneath it.
Orthopedic beds are made to give the most support and comfort. Such beds have three layers for comfort: a bottom base layer for support, a middle memory foam layer which conforms to body shape, and a top therapeutic layer for support.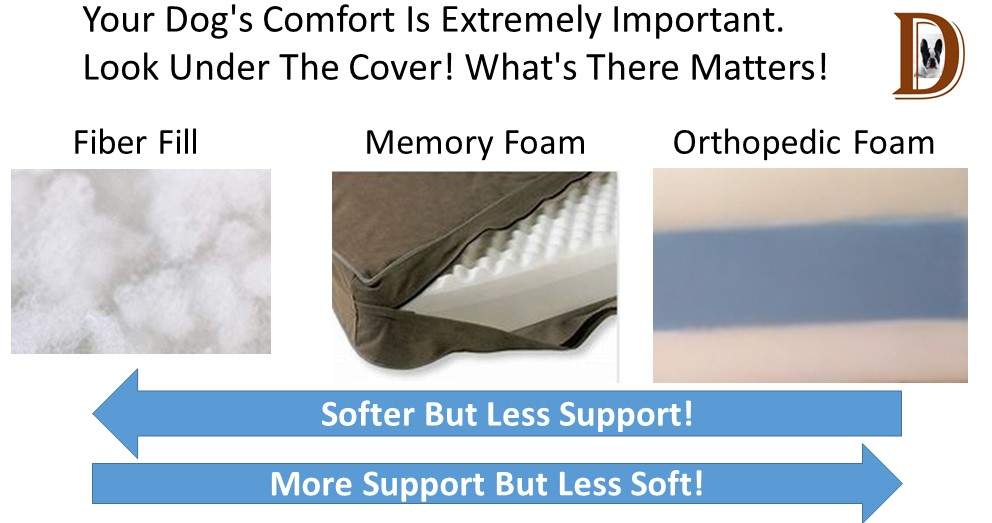 Really! Orthopedic beds are best.
The University of Pennsylvania School of Veterinary Medicine performed a clinical study to understand if orthopedic dog beds extend the comfortable life of a dog when they sleep on a superior dog bed such as those from Big Barker.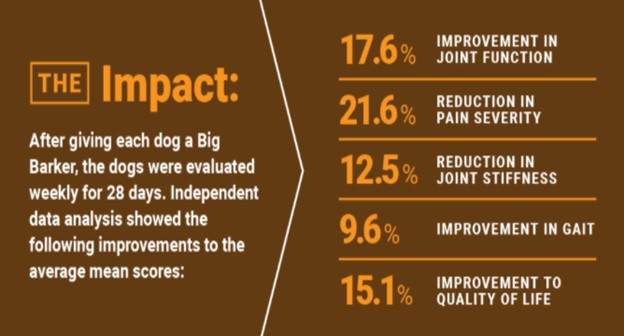 Just because a bed's product description says comfortable, the comfort may only last a week because it may be made from polyester fill or substandard Chinese foam. Read the label. And remember much imported foam has an odor and contains harmful chemicals like lead, arsenic, chlorine and other bad stuff.
That's comfort from the inside but what about the outside cover?
–
Dog Bed Outside Cover Comfort
Are all fabrics comfortable? Scratchy and slippery fabrics are not. A scratchy fabric rubs thin dog coats abrasively. And a slippery fabric causes a feeling of insecurity and instability. Dogs with thin coats and short hair like the cushier material such as Sherpa.
The most comfortable fabrics are faux fur, polyester, microfiber, and suede.
Now on to the second factor.
–
Dog's Body Temperature Control Comfort
The material, filler and bed style have a big impact on maintaining a dog's body temperature.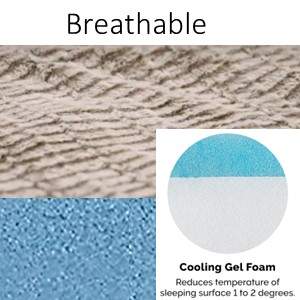 Not all fabrics breathe and wick. What does that mean and why is it important?
A dog's body temperature can be controlled when breathable and wicking fabrics are used.
The breathability of a fabric refers to its ability to allow moisture vapor to be transmitted through it and wicking refers to a fabric's ability to pull moisture away from a dog's body and provide continuous comfort.
The best breathable and wicking fabrics include canvas, duck or super durable Crypton fabric and micro suede.
Crypton and micro suede fabric handle spills for easy wipe up and are odor resistance keeping the fabric fresh. Sherpa and fleece is also breathable and provides excellent warmth. Fleece is actually warmer than Sherpa. Mesh works well too when used on raised (elevated) beds.
Elevated beds provide additional temperature control because they allow air to flow and circulate freely under the bed during hot weather and keep the dog off cold floors and drafts during cold months.
Breathable dog blankets can always be used for additional warmth in cold climates. Heated beds which are placed directly on the floor can also be used. Cooling beds work well for not climates.
So there is a lot we can do for our dog's comfort. What else can we do?
The third factor to consider when buy a dog bed is our dog's sleeping style.
–
A Dog's Sleeping Position For Dog Bed Comfort
Have you noticed? Not all dogs have the same sleeping style. And shame on the pet owner who doesn't consider their pet's sleeping position when buying a new bed.
The following information will show how impactful a sleeping position is when choosing a dog bed type. The most common sleeping styles are sprawlers, curlers, burrowers, and leaners.
Let's learn what each one means and how to buy the proper bed for each sleeping position.
Sprawlers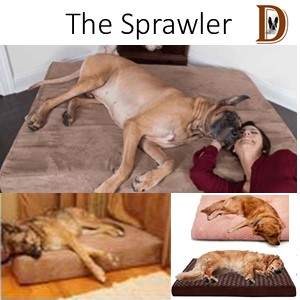 Sprawlers stretch out in all directions and move around a lot. Their maneuvers take room. So the bed needs to be big enough, strong enough and obstruction free.
To measure for size, measure the height (bottom of the feet to the top of their ear) and the length (tip of their nose to the tip of their tail). No one likes flopping legs or unsupported paws, not even your dog. So make sure the bed will fit regardless of sprawling direction.
A rectangular shape best fits this position of sleeper. For those breeds that like to sprawl plus lean against something, a bolster and lounge bed work well. For those who don't lean, the elevated bed is perfect.
Breeds such as Chihuahuas and Terriers frequently sprawl out on their stomach.
Bolster, elevated and lounger beds are very popular for sprawlers.
Curlers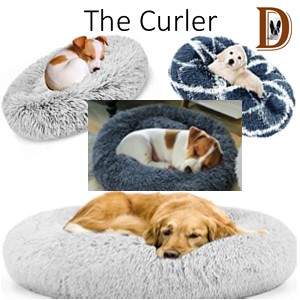 Curlers sleep with their legs tucked toward or under their belly, and their nose resting on their tail and hindquarters. Everything is curved together. Curlers like the feeling of warmth and security. By curling in a ball they definitely keep their body heat close and protect their vital body parts.
To measure for size, it is necessary to measure your pet in the curled sleeping position and add 6-10" in all directions for the final bed size.
The beds for curlers are often called donut, round, oval, or bolster beds.
Usually they are a round shaped bed with a thick, inner cushion that supports tired muscles and joints and cushioned sides that support shape, aids coziness and additional protection.
Bagels, terriers, Chihuahuas, and Chinese Crested are particularly fond of this position. They like to curl into a ball.
That's the second sleeping position. Now on to the third style.
Burrowers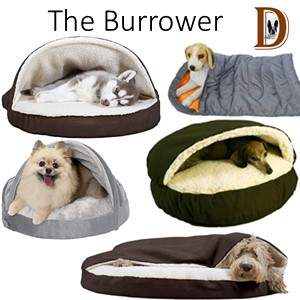 Burrowers like to sleep burrowed in blankets or covered in some manner. By nature dogs are burrowers. Just give them a bone outside where the ground is soft and they will bury it. Some dogs bring those instincts into the home. The best way to help them sleep comfortably is to give them a cozy bed for burrowing in.
A hooded, cave, snuggle sack or deep dish styled bed is the best option for burrowers. They offer plenty of burrowing opportunities.
The breeds most noted for burrowing are small terriers and dachshunds. Truthfully, this sleeping position looks so cute.
Now on to the last basic sleeping style.
Leaners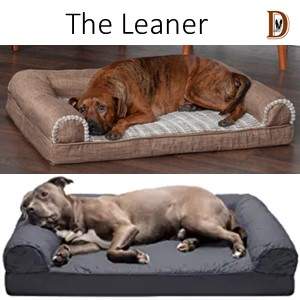 Leaners like to sleep on their side with their legs free and lean against a bed backing or cushion especially with their head. This gives them support as they sleep. Without proper support they get a free fall feeling. Because leaners sleep with their legs freely stretched out, you will often see them twitch.
The best option for the leaners position sleeping is the bolster bed. It provides something that is firm enough to lean against. Donut, round and cave beds also provide some support for leaning.
Medium and larger sized dogs frequently assume this sleeping position. Such a position gives them better support for their larger body structure.
Sleeping Position Summary
Knowing your dog's sleeping position dictates what kind of bed shape will be most suitable.
Sprawlers may also be leaners and therefore prefer a bolster or lounge bed. They need to stretch out so want no constriction. A donut or round bed would be totally uncomfortable. For them, an orthopedic rectangular bed is very comfortable.
Burrowers may not experience enough burrowing in a cave bed and prefer a deep dish curler. If you dog needs to spin around to get comfortable, then a softer bed with more pliable fabric and stuffing will help them burrow. The best bed styles are nesting beds or cave beds.
Curlers may require more support than an oval bed provides. Good choices for them are nesting and donut beds. And the bed size will not be a large as you think. Measure the body length to get the right size.
Leaners definitely need something to lean against or their body structure will suffer. For them a bolster is a must have whether the bed is orthopedic or furniture styled.
As dogs age, their sleeping position may change because of joint and mobility issues. Be ready to make the change for them.
The sleeping position of dogs has been a discussion for years. Because of this, every shape or type of dog bed accommodates each of the sleeping position.
Dog owners live in all kinds of climates so there are dog beds for all sleeping position regardless of climate.
Manufacturers know some dog breeds are more popular than others, but they make something for everyone. There is a bed that will be right for your breeds sleeping position.
Dogs around the world age and face structural issues, manufacturers make sure they make something for the demand.
Since each sleeping position has an available bed type, it's important to understand the basic dog bed characteristics.
–
Dog Bed Size Comfort
Sprawling sleepers need plenty of room to stretch out. The best way to measure for the bed size is to measure the height from the bottom of the foot to the top of the ear and the length from the tip of their nose to the tip of their tail. This gives the measurement for a rectangular shape.
Curlers sleep snuggled up so don't need a lot of space but it may take them some time to "nest" in. So the best way to measure for size is measure your pet in the curled sleeping position and add 6 to10 inches in all directions for the final bed size.
Burrowers like to sleep covered so measuring from the nose or front legs to the back legs or rump and adding 4 to 6 inches for small dogs and 8 to 12 inches for medium or large dogs.
Leaners need length room and plenty width so their feet do not hang over the bed. Thus it is best to measure from the bottom of the foot to the top of the ear and the length from the tip of their nose to the tip of their tail and add 5 inches.
–
–
Okay, so that gives us an understanding of what dogs like, but how does that translate when it comes to shopping for them? There are so many dog bed names.
–
How To Easily Buy A Dog Bed By Name
Over the years so many dog bed names have been created. They can become very confusing. To make this easier let's classify the names by predominant characteristics.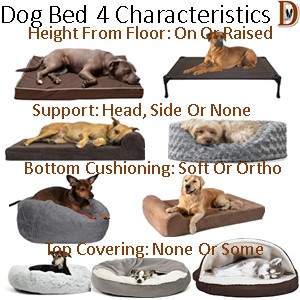 There are four predominate characteristics that clarify dog bed names: height in relationship to the floor, head or side support, degree of cushioning, and amount of top covering.
Understanding these four characteristics will help you quickly eliminate those that do not meet your dog's requirements.
So let's associate some dog bed names to these four characteristics.
Bed Height In Relationship To The Floor
Beds placed on the floor include bolster, donut, round, cave, nested, covered, hooded, deep dish curler, mat, heated, cooling and orthopedic. They are known as Flat Beds or Mats.
Beds not sitting on the floor include elevated, lounge, furniture, house, and bolster.
Head or side support. They are called Raised Beds.
Bed Head Or Side Support
Beds with head or side support are known as bolster, lounge or furniture beds.
Bed Degree Of Bottom Cushioning
The degree of bottom cushioning identifies the beds purpose. Donut, cave, round, nested covered, hooded and deep dish curler beds provide some support, but their purpose is to provide a lot of soft cushioning to curl and bury in.
Orthopedic beds provide the most bottom cushioning which is solely for structure support. Bolster, flat beds and mats also provide structural support but to a lesser degree than the orthopedic beds.
Bed Amount Of Top Covering
The beds with the most top covering are known as cave, nested, covered, and hooded. They are especially for the burrowers.
Other dog bed names commonly sold are chew proof, heated and cooling beds, and dog crates and carriers with pads.
–
How To Buy A Dog Bed By Type
There are four basic dog bed types: elevated, bolster, flat and orthopedic. Learn more detail about each type and their benefits and disadvantages so you can choose the best dog bed for your pet.
Elevated Beds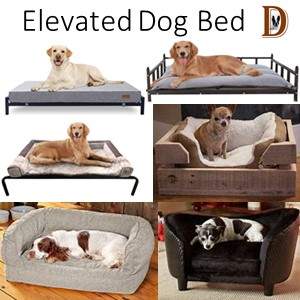 Elevated dog beds are similar to human cots. They have four sturdy legs with fabric pulled taut across the frame attaching to the legs. Generally they are rectangular in shape.
They are typically referred to as elevated or raised beds.
Because of their construction they provide the following benefits.
✓ Temperature regulation. They raise the body sleeping portion of the bed off the floor. This type of design is good for all seasons; there is no cold floor to sleep on. If the bed is made of mesh, air can circulate freely underneath as well.
✓ Even support. The sleeping portion is more like a mattress rather a shapeless bean bag chair.
✓ No mess. They have no stuffing to chew.
✓ Moveable. They are easily folded and moved.
Disadvantages
✓ Trying to assemble the bed single handedly is challenging because the sleeping material must be very taut.
✓ Trying to remove the fabric for replacement can be difficult as well because of its tautness.
✓ Physically challenged dogs may find it difficult to get into bed.
✓ Fashion looks are not plentiful unless high costing customization is requested.
Raised elevated beds are great for sprawling sleepers and large dog breeds.
Bolster Beds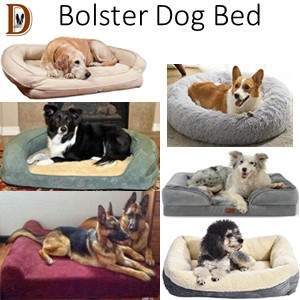 Bolster beds have either a long narrow pillow or cushion filled with cotton, down or fiber. Bolsters usually have some kind of support at the head, on the back or sides. Those with 360 degrees of side support are favored by curler sleepers and burrowers. Those with back support are preferred by leaners.
Common names for bolster beds are donut, round, deep dish, a furniture bolster, lounger, basket and cave.
Benefits
Bolster beds have benefits such as the following.
✓ Give the head a place to rest. Some dogs love to sleep with their head raised.
✓ Provide a sense of security, protection, privacy and an opportunity for territory marking with its 360 degree raised sides.
✓ Give relief to dog anxiety. Its 360 degree raised sides and its soft comfortable inside give a dog the key ingredients for relaxing: security protection and comfort.
✓ Add to any room décor when styled as a furniture bolster bed.
Disadvantages
The disadvantages are identified as follows.
✓ A 360 degree raised side bolster bed seriously limits movement for sprawlers.
✓ The comfy soft inner portion may not provide enough support.
✓ Orthopedic foam does not work well in the 360 degree raised side bolster beds.
Flat Dog Beds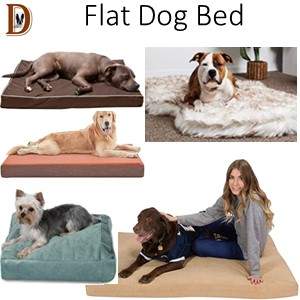 Flat dog beds are those that lie flat on the floor as opposed to a raised or elevated bed. The key to this type of bed is the thickness and firmness of the memory foam or orthopedic foam. Since the bed is placed directly on the floor the bottom material must be non-sliding.
Sprawlers are very fond of this type of bed. They have no obstructions.
Advantages
✓ The construction is very simple and thus less expensive.
✓ There is no chance of falling out of bed.
✓ The memory or orthopedic foam thickness will not have a great impact on getting up from the bed.
Disadvantages
✓ Cold climates have cold floors and cold air drafts causing chills.
✓ Debris can collect easier under or around it causing obstruction.
✓ Older dogs with joint and muscle pain find it harder to get up.
Orthopedic Dog Beds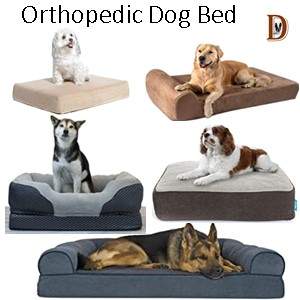 This dog bed type gets its name from the fact that it uses orthopedic memory foam. And its purpose is to relieve pressure on sore joints, especially for senior dogs who may be suffering from arthritis or muscle issues. Pain can cause anxiety, so finding a bed that helps relieve pain can help your dog relax.
Sprawler and leaner style sleeping dogs appreciate this bed type most. Also the older dogs favor the relief the orthopedic foam gives to arthritis and similar pain.
Advantages
✓ Gives excellent pain relief from arthritis, joint and muscle pain.
✓ Helps dogs relax and sleep better.
✓ Helps prevent joint problems such as hip dysplasia and arthritis in the future as your dog ages.
✓ Provides extra support to joints and bones giving particular attention to the elbows and hips.
✓ Quality orthopedic foam stays firm for a long time.
Disadvantages
✓ Orthopedic foam beds are pricey at the time of purchase.
Summary Buying A Dog Bed By Type
✓ The dog bed type purchased must match your dog's sleeping style.
✓ Each bed type has multiple brand options.
✓ Buying the right size is very important for movement, security and protection.
If you have been online, you will notice there are a lot of dog bed brands. Obviously they have differences. So which is the best brand?
–
How To Buy A Best Dog Bed Brand
Since there are so many dog bed brands, we are highlighting those we believe are the top brands.
The Top Dog Bed Brands Made In The USA
º Big Barker is known for its large breed and orthopedic beds.
º Kuranda is known for its chew proof beds and elevated beds.
º Majestic Pet Products for curling dog sleepers.
º Dog Bed King USA for curling bolster sleepers.
º West Paw for flatbed mat sleeping.
º eLuxury for small dog pillow beds.
º Snoozer for luxury sofa beds.
The Top Rated Elevated Dog Bed Brands
º Coolaroo
º Kuranda
º K9 Ballistics
º K & H Pet Products
º Paws & Pals
º Floppy Dawg
º Petmaker
º Giga Pet
º Veehoo
º Furhaven
Top Bolster Dog Bed Brands
º Big Barker
º PetFusion
º K & H Pet Products
º Majestic Pet Products
º BarksBar
º Best Friends by Sheri – The Round and The Cave
º Serta
º Archie & Oscar
º Tucker Murphy
º Beautyrest
º Casper Sleep
º La-Z-boy
Top Rated Heated Dog Beds
º K & H Pet Products
º Best Friends By Sheri
º Amzdest
º Aleko
º L.L. Bean
º Riogoo
º Wangstar
º Aspen Ped
º Pet Magasin
Best Rated Orthopedic Dog Bed Brands
º Big Barker
º Kuranda
º K9 Ballistics
º K & H Pet Products
º Furhaven
º Bark Box
Best Chew Proof Dog Bed Brands
º K9 Ballistics
º Orvis
º Kuranda
º PetFusion
º Big Barker
º Dogzilla
–
–
Conclusion
The above information is provided to help you buy the best dog bed for your pet. By considering your dog's comfort, sleeping style, measuring for the right size, knowing the differences in dog bed types, understanding dog bed name terminology, and knowing the best brands, you should be well prepared as you shop for the best.
We wish you much shopping success. We would love to hear of your shopping experience. Let us know about it in the comments section below. Your experience will be helpful for others.
Thanks for sharing.
–
Shop Our selection of dog beds for all dog breeds, all sleeping styles, all bed styles and types, and best brands.
Quality Dog Beds Give A Better Sleep For A Better Life.
Shop Dog Beds
Happy Dog Bed Shopping!