Heated Beds Keeps Pets Warm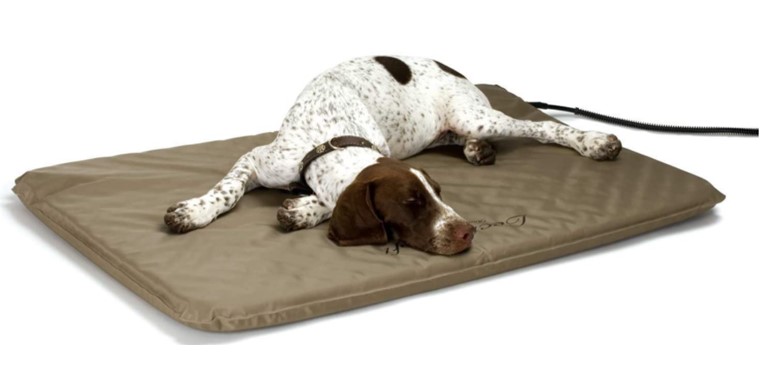 Keeping your dog warm all year long can be a chore. However, a heated dog bed can be an excellent choice to keep your pet comfortable all year long. Some of these beds can be used outside to keep him warm during those cold winter months.
Heated dog beds are also good for pets that gets cold easily. There are two types of heated dog beds and they are: electric and self-warming.
Are Heated Beds Safe?
A quick answer to this question is yes. Heated beds are safe for pets. As pets age some lose hair and can get cold very quickly. Also, senior dogs may suffer as they can develop arthritis, aching joints and hip dysplasia, and circulation issues. Heated beds alleviates some of these concerns.
Just like any other bed, heated beds come in different shapes and sizes. Select the one that is best for your dog.
Electric Dog Beds
When using an electric dog bed be sure to use it on the low setting. Find one that has a chew-resistant chord and a removable cover for easy washing. Be sure there is an outlet nearby so you don't have to use an extension cord. Be sure that all cords are out of the way so your pet will avoid any injury. If you should discover any part of the cord being chewed on or have some wires exposed, toss it. It will not be safe. Always side on safety for you and your pet.
If you must use an extension cord, follow the manufacturer's instructions that came with the bed for proper use and which type can be used. As with any electrical appliance, look for wear and tear. Replace the bed to avoid electrical problems.
Self-Warming Dog Beds
These beds do not require the use of any electricity. They use the warmth of the dog's body to warm the bed. Thus, the name self-warming. These beds come in all types and shapes. So, you should find one that is best for your pet. They also come in different colors to match closely to the rooms décor.
These beds keep the pet warm. Some of these beds are made with bolsters to provide support when they sleep. Remember, to match the bed with the sleeping style of your dog.
Another feature to look for in these beds is if the cover or the entire bed can be washed. Some dogs will not use their bed when it's soiled. They need to be cleaned on a regular basis. Be sure to find one that is machine washable.
Shop Heated Dog Beds
You can shop for the heated dog beds below. Just click or select the bed of interest and you will be taken to Amazon where you can check out the customer reviews and answered questions before purchasing. While there, you can choose the color, size and place the order.