Raised Dog Beds Are Good On Hot Days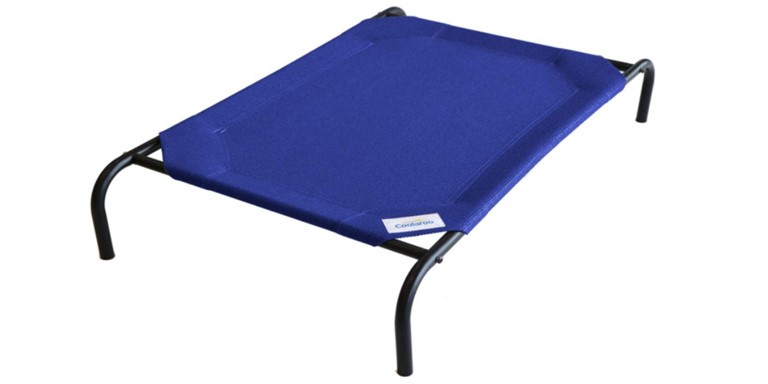 Elevated dog beds are excellent for keeping your pet cool when he rests or sleeps on hot days. It gets him off the ground and these beds also provide joint pain relief. Raised dog beds are not best for all dogs. You need to consider his health on trying to get on an elevated bed.
If your pet is an aggressive chewer, some brands below guarantee against chewing.
Benefits of Elevated Dog Beds
Below are some benefits of elevated or raised dog beds.
An elevated dog bed provides orthopedic support that's firm and even across your pet's body. These beds also help in alleviating pressure on his joints.
If your dog is up in years and suffers from arthritis, a raised dog bed makes it easier to change positions. He doesn't have to go far to raise his body when getting up or down.
The fabric on these beds are stretched tighter which makes is difficult for aggressive chewers to chew them apart.
These beds stay cleaner as it lets the hair and mud fall off the sides or through the mesh. It also keeps the dog from setting in a pool of hair so the beds stays cleaner.
If you use a robot vacuum it can remove the hair bunnies under the dog bed with ease. If you have a regular vacuum it is easier to keep the area under the bed clean.
Elevated dog beds are easy to move around from room to room due to its light weight. Some of these beds can be used outdoors as well.
The outdoor models of these beds can be hosed off when they get dirty which keeps them clean.
An elevated dog bed keeps your pet cooler in the summer.
If your dog suffers from flea allergy dermatitis a raised dog bed can provide your pet refuge from these pests when resting outside.
The Cons of Raised Dog Beds
We have provided the pros or benefits of using an elevated dog bed. We now provide some of the downside of these dog beds.
Assembly Required: When you purchase an elevated dog bed it does require some time to assemble it. In some cases, you may need some help or assistance in putting the bed together.
Replacement Covers: Some beds may not have replacement covers. If your dog likes to dig he just may make a hole through the cover. This requires you to replace the entire bed. Try to find brands that provide replacement covers.
Limited Styles or Shapes: Many of these beds have limited styles, shapes and colors. Fabric choices may also be limited too. The more stylish the bed the more it will cost.
Tautness of Fabric: Because the fabric is very taut, your pet may bounce on the bed like it's a trampoline. Just beware of this concern.
Physically Impaired Dog: If your dog should suffer from blindness or some form of being physically impaired, a raised dog bed may not be best. He just may fall out of the bed at the risk of injury.
Female Dogs: If you should have a female dog that has not been neutered, a raised dog bed is not for them if they become pregnant. A mother about to give birth needs a comfortable bed where she are her pups will be safe and secure. An elevated bed will not let her relax and get on with giving birth. Also, young puppies will certainly manage to fall out of a raised bed when they start to feel their way around.
Shop Elevated Dog Beds
Below are images of some great elevated dog bed brands. Some of these brands guarantee against aggressive chewing dogs. Look for those in the description. You will be taken to Amazon where you can place the order.
You will have the option of selecting size and color. You have access to all of the customer reviews and answered questions.
–