Dog Beds Medium Size Dogs
I Need A Nice Bed For Warmth!
My Aching Joints Need Relief!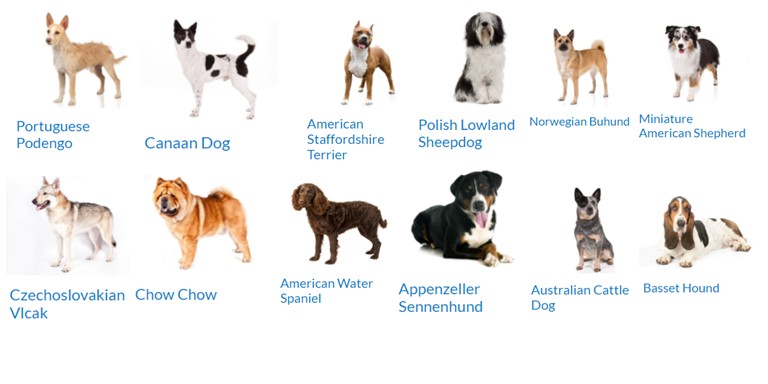 Introduction
Dog beds medium size dogs are for dogs weighing between 26 and 50 pounds. Knowing your dog's sleeping style will assist you in selecting the proper bed. Dog beds have been around for many years. In the past, dogs did not have a bed and usually laid on the floor or were put outside in a doghouse.
As a pet parent it is vital that you observe your pets sleeping style. Your medium size dog will have any of the four sleeping styles mentioned below.
Another Tip: When buying a dog bed, you must consider if your pet is full grown. If you have a puppy, he will grow and the bed you buy for him now, will not fit him when he is full grown. When purchasing a dog bed be sure to purchase one that he can grow into. Otherwise, in a year or less, you will need to replace the bed.
As your pet ages they also may change their sleeping style. So, keep alert on when to buy a new bed for his new sleeping style.
You may want to learn more about rectangular orthopedic dog beds made in the USA by clicking on the link.
Medium Size Dog Breeds
The American Kennel Club has a list of the top medium sized dog breeds. They are listed below for you to consider. Select the breed you are interested in to may a nice companion for you or someone else.
Airedale Terrier
Alaskan Klee Kai
American English Coonhound
American Foxhound
American Leopard Hound
American Staffordshire Terrier
American Water Spaniel
Appenzeller Sennenhund
Australian Cattle Dog
Australian Kelpie
Australian Shepherd
Australian Stumpy Tail Cattle Dog
Barbado da Terceira
Barbet
Basset Fauve de Bretagne
Basset Hound
Bavarian Mountain Scent Hound
Bearded Collie
Bergamasco Sheepdog
Bohemian Shepherd
Border Collie
Boykin Spaniel
Braque du Bourbonnais
Braque Francais Pyrenean
Brittany
Bull Terrier
Bulldog
Canaan Dog
Carolina Dog
Chow Chow
Clumber Spaniel
Collie
Croatian Sheepdog
Czechoslovakian Vlcak
Dalmatian
Deutscher Wachtelhund
Drentsche Patrijshond
Drever
Dutch Shepherd
English Foxhound
English Setter
English Springer Spaniel
Entlebucher Mountain Dog
Eurasier
Flat-Coated Retriever
French Spaniel
German Pinscher
German Wirehaired Pointer
Grand Basset Griffon Vendeen
Hamiltonstovare
Hokkaido
Icelandic Sheepdog
Japanese Akitainu
Jindo
Kai Ken
Karelian Bear Dog
Keeshond
Kishu Ken
Kromfohrlander
Lapponian Herder
Miniature American Shepherd
Mountain Cur
Mudi
Nederlandse Kooikerhondje
Norwegian Buhund
Norwegian Elkhound
Nova Scotia Duck Tolling Retriever
Pharaoh Hound
Plott Hound
Polish Lowland Sheepdog
Poodle (Standard)
Porcelaine
Portuguese Podengo
Portuguese Pointer
Portuguese Sheepdog
Pudelpointer
Pyrenean Shepherd
Saluki
Schapendoes
Segugio Italiano
Shikoku
Slovakian Wirehaired Pointer
Slovensky Kopov
Small Munsterlander
Spanish Water Dog
Stabyhoun
Swedish Lapphund
Taiwan Dog
Thai Ridgeback
Transvlvanian Hound
Treeing Tennessee Brindle
Vizsla
Volpino Italiano
Wetterhoun
Whippet
Wirehaired Pointing Griffon
Wirehaired Vizsla
Working Kelpie
Yakutian Laika
Sleeping Style Positions
As you observe your pet when he sleeps, you will be seeing his pattern of sleep. By noticing this style, you will be able to match a dog bed with the sleeping style. The four major sleeping styles are:
Sprawlers
Curlers
Burrowers
Leaners
Each one of these styles is discussed in more detail below.
Sprawlers – Sprawlers stretch out in all directions and move around a lot. Their maneuvers take room. So, the bed needs to be big enough, strong enough and obstruction free. To measure for size, measure the height (bottom of the feet to the top of their ear) and the length (tip of their nose to the tip of their tail). No one likes flopping legs or unsupported paws, not even your dog. So, make sure the bed will fit regardless of sprawling direction.
Curlers – Curlers like to sleep with their legs tucked toward or under their belly, and their nose resting on their tail and hindquarters. Everything is curved together. Curlers like the feeling of warmth and security. By curling in a ball, they definitely keep their body heat close and protect their vital body parts.
To measure for size, it is necessary to measure your pet in the curled sleeping position and add 6-10" in all directions for the final bed size.
The beds that curlers like are the donut, round, oval, or bolster beds.
Burrowers – Burrowers like to sleep burrowed in blankets or covered in some manner. By nature, dogs are burrowers. Just give them a bone outside where the ground is soft, and they will bury it. Some dogs bring those instincts into the home. The best way to help them sleep comfortably is to give them a cozy bed for burrowing in. A hooded, cave, snuggle sack or deep dish styled bed is the best option for burrowers. They offer plenty of burrowing opportunities.
Leaners – Leaners like to sleep on their side with their legs free and lean against a bed backing or cushion especially with their head. This gives them support as they sleep. Without proper support they get a free fall feeling. Because leaners sleep with their legs freely stretched out, you will often see them twitch. The best bed option for the leaners position sleeping is the bolster bed. It provides something that is firm enough to lean against. Donut, round, cave and bolster beds also provide some support for leaning.
Medium and larger sized dogs frequently assume this sleeping position. Such a position gives them better support for their larger body structure.
Types of Medium Size Dog Beds
Knowing your dog's breed, habits, and sleeping style, will help you choose the right bed type for your dog. Let's take a look at some of these choices.
Orthopedic Memory Foam Bed. These beds are rectangular, round, and bolster. Rectangular beds are an excellent choice for dogs that like to stretch out or sleep on their back. Bolster beds provide support to their back and head and are for dogs that like to nest. Round beds are great choices for dogs that like to curl when sleeping. Orthopedic beds are good for dogs that suffer from joint and muscle pain and arthritis or suffer from hip dysplasia. You can find orthopedic dog beds for rectangular, bolster and round dog beds.
Self-Warming Bolster Bed. Self-warming bolster bed uses the dog's body heat to keep them warm and cozy. This type of bed is good for dogs with thin coats and live in cooler climates. This bed is excellent choice for dogs that like something secure for their body or lay their head on something while they sleep.
Deep Dish Bolster Bed. This bed is an excellent choice for dogs that like to cuddle or nest. They are soft and the bedding material molds around the pet's body. Note: These beds are not recommended for dogs that are aggressive chewers.
Cozy Cave Bed. This bed is a great choice for dogs that like to snuggle and likes a covering. These beds keep pets warm and cozy. They are made with soft Sherpa interior, micro suede interior, and can be stuffed with soft polyester filling with some cedar to keep odors out and pests away. This type of bed is used for small to medium size dog breeds.
Elevated Beds. Elevated beds keeps pets off the ground. They are made of strong material and hold up against strong chewers. They are excellent for dogs living in hot climates as the air circulates under their body to keep them cool.
Heated Beds. Heated beds are for dogs that are outdoors and live in cold climates. These beds are rectangular and come in various sizes. These beds are for all size dogs.
Questions About Medium Size Dog Beds
How big should a medium size bed be for a medium size dog? Answer: The bed should measure between 30 inches long and 20 inches wide. The bed should accommodate a dog weighing between 26-40 lbs. If your dog uses a stretch sleeping position, be sure the bed fits him, so his legs don't hand over the bed.
Do dogs prefer firm or soft beds? Answer: Dogs don't need a soft bed but need to rest on a firm surface. The floor does not qualify as a firm surface. Beds that are too soft do not provide sufficient support and comfort for joints and a good rest. If you have an older dog or one that suffers from arthritis or aching joints, an orthopedic dog bed is best.
Do dogs need a blanket to sleep? Answer: Whether you have a young, old, or sick dog, they need added comfort which a blanket provides. Small dog, short-haired breeds, and dogs that are prone to be more cold-blooded need extra warmth that a blanket provides.
Do dogs really need a bed? Answer: Yes.

Dogs sleep between 12 to 18 hours a day, depending on age. So, they need a comfy bed to snooze on just like you do. Although you might find your pup occasionally, or often, snuggled at your side during the night, 

dogs need to have a bed of their own. It will break them of the habit of sleeping with you.
Where should you put your dog's bed? Answer: The best areas are quiet and away from foot traffic, includes noisy TV's and running feet. Many pet owners choose to place the bed close to bedrooms or even adjacent to their bed when the pup is young. As they get older the bed should be in an area, where they can call home.
Why do dogs dig at their beds before lying down? Answer:

The reason why almost every dog digs at their bed is that 

it's a natural instinct in order to make a comfortable, warm place to lie down.
Benefits of Dog Beds
This is an important topic as we try to share some benefits of a dog bed.
Keeps Dog's Off Your Bed & Furniture. A dog needs to have their own place where they can call home. A dog bed fits this need. Over time, dogs sleeping with their owners can become an issue.

No matter how many times you vacuum your couch, he will leave always leave his signature trail of fur and dander there. Until you introduce him to his new bed and makes the sofa less appealing, you cannot blame him for sleeping on it.  

Prevents Behavioral Issues. Over time, your dog will realize that your bed is the best place to sleep because it's so comfortable. When you want him to get off the bed, he may growl at you or have some other type of behavioral issue. To prevent this situation, get a dog bed for him.
It's Great For His Health. Having your dog sleep on the hard cold floor is not providing him the best care. This type of

sleeping position can lead to erratic sleep, causing your dog to become irritable and lackadaisical. An orthopedic bed is best for aging and overweight dogs. It helps eliminate joint pain and arthritis. A bed is great for his overall health.

Keeps Him Warm. Dog's like sleeping in a warm cozy bed. Which is what they experienced when sleeping in your bed.

Sleeping on the floor exposes your dog to temperatures that are either higher or lower than what is good for him: falling ill as a result. Dogs are highly vulnerable and sensitive to temperature change. So, they need proper insulation for comfort. A self-warming dog bed is an excellent choice to keep your dog feeling safe and warm on cold days. However, any dog bed is better for him than sleeping on the cold floor.

Has His Own Place To Call Home. Dogs

need a cozy place that they can access anytime. Not having to wait for the sofa because it's in use or competing with other pets in the house. Having his own dog bed is the best way he can have his place of retreat. Know that dogs are territorial, and they value their possessions very much. Dogs sleep anywhere from 12 to 14 hours a day. So, a bed can make his naptime peaceful and can use it anytime he wants to without disturbing others in the family.
Conclusion
Dogs make for a great companion. Especially if you are alone. We presented information for you to consider like a pet's sleeping style, medium size dog breeds, benefits of dog beds and types of medium size dog beds. Carefully think through these topics before deciding on which breed of dog, and type of bed to get.
As you ponder through this information it should have educated you about dogs and some of their behaviors. Don't forget that his food is just as important to his health as his bed.
Shop Medium Size Dog Beds
You can shop for some of the top rated medium sized dog beds below. After browsing through the list, just click on the bed of interest.
Some Brands Offer Choices of Colors and Sizes.
Asvin Rectangular Bed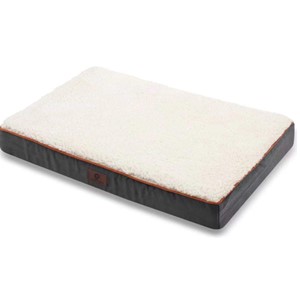 AsFrost Bolster Bed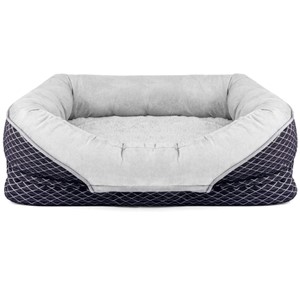 BarkBox Rectangular Bed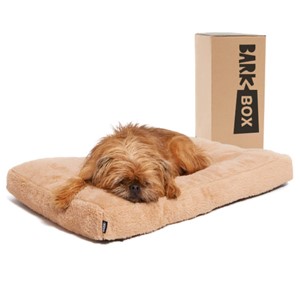 BarksBar Bolster Bed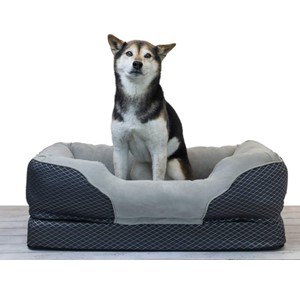 BDEUS Bolster Bed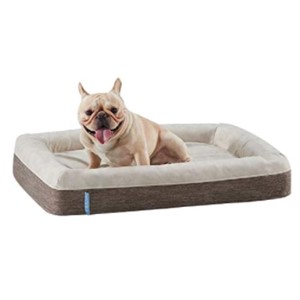 Bedsure Bolster Bed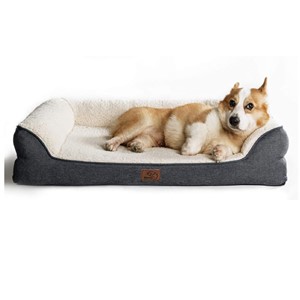 Bedsure Rectangular Bed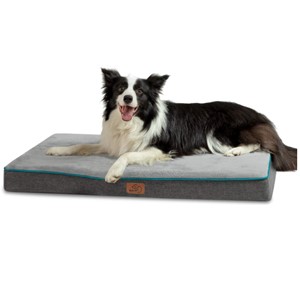 Blueberry Bolster Bed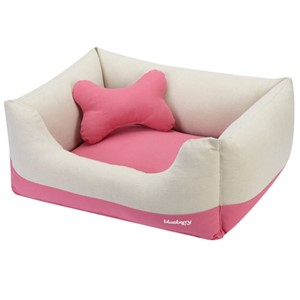 C4P Donut Bed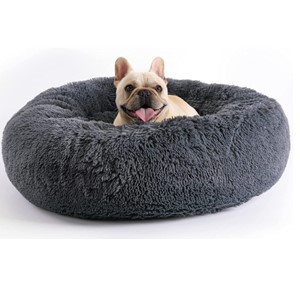 Casper Bolster Bed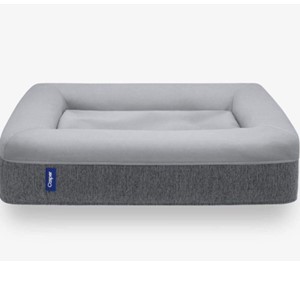 DogBed4Less Rectangular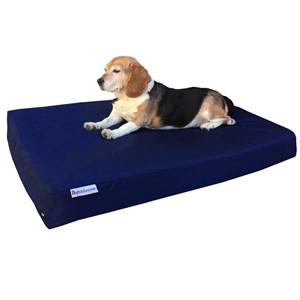 DogBed4Less Rectangular Brown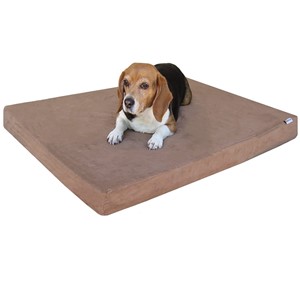 EDUJIN Rectangular Bed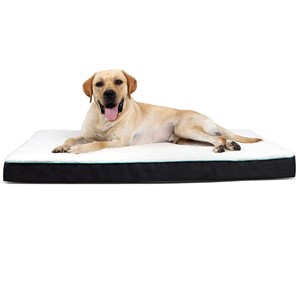 EHEYCIGA Rectangular Bed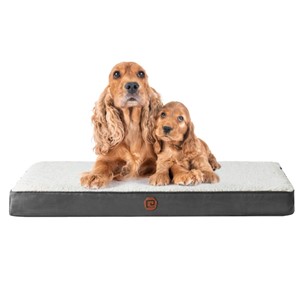 EHEYCIGA Bolster Bed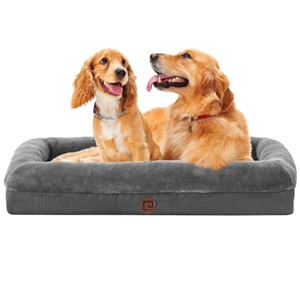 FOCUSPET Rectangular Bed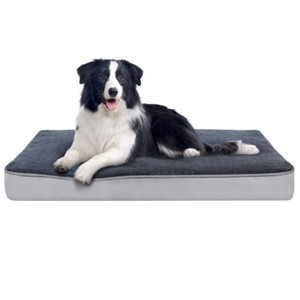 Frida Bolster Bed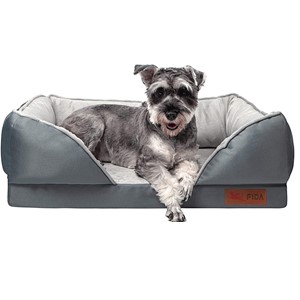 Furhaven Pet Bolster Sofa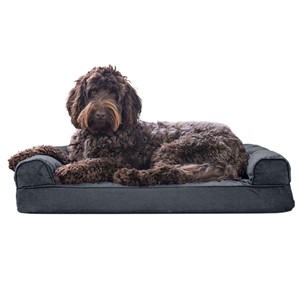 Furhaven Pet Quilted Bolster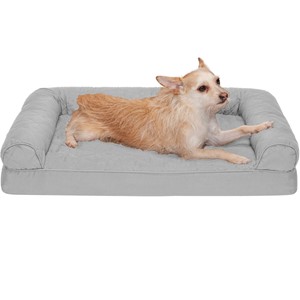 JMHUND Bolster Bed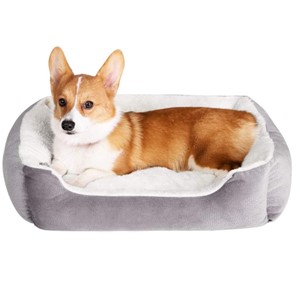 K9 Ballistics Elevated Bed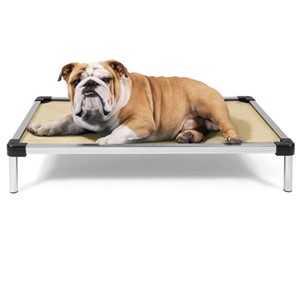 K&H Elevated Bed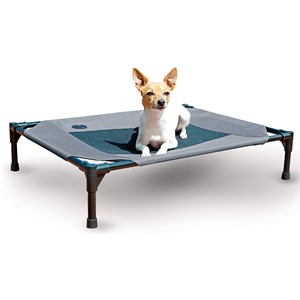 Kroser Rectangular Bed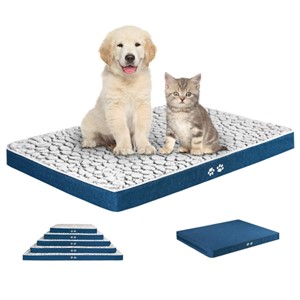 Kroser Bolster Bed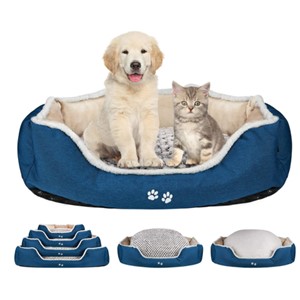 Kroser Donut Bed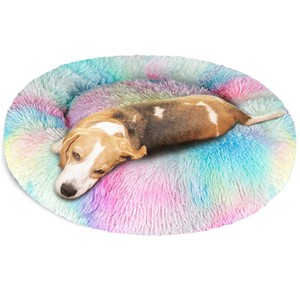 Kuranda Elevated Bed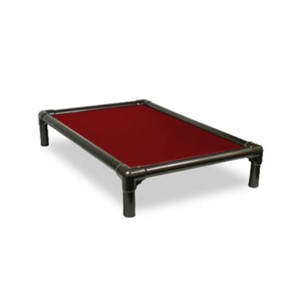 Laifug Rectantular Bed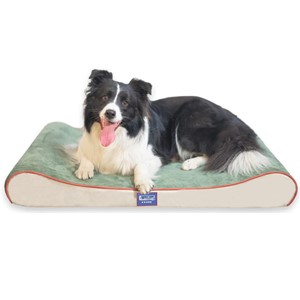 Laifug Headrest Bed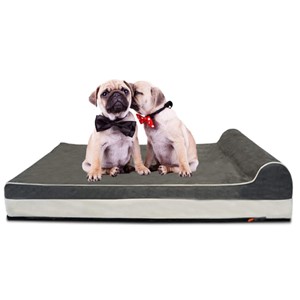 MIHIKK Crate Pad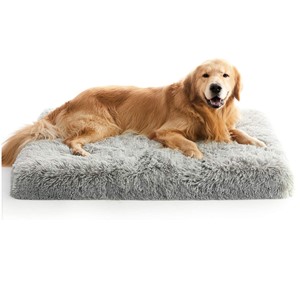 Sealy Bolster Bed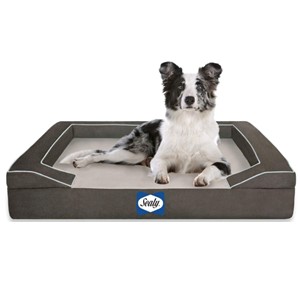 Suddus Elevated Bed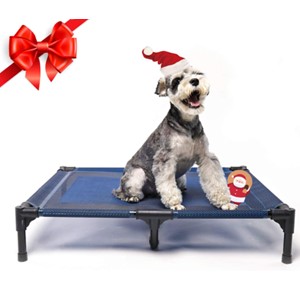 SunStyle Rectangular Bed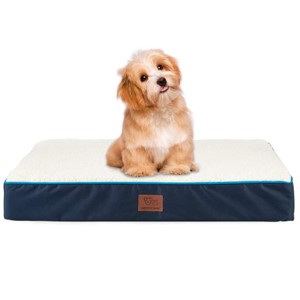 Suhleir Donut Bed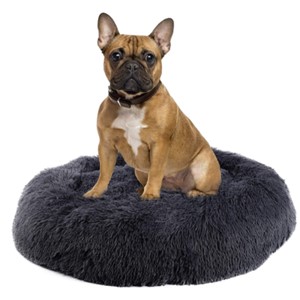 TwoEar Bolster Bed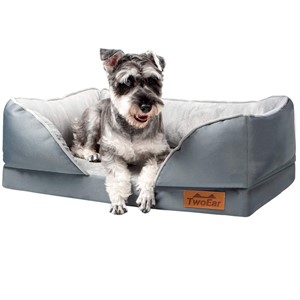 Toozey Rectangular Bed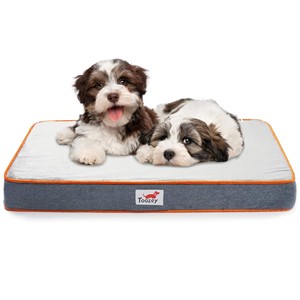 ULIGOTA Rectangular Bed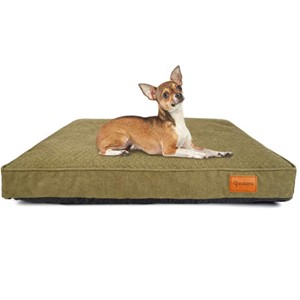 VeeHoo Elevated Bed
Western Home Rectangular Bed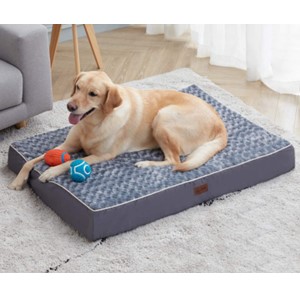 Go back to the Dog Luxury Beds home page.