Mold Your Dog's Behavior With A Crate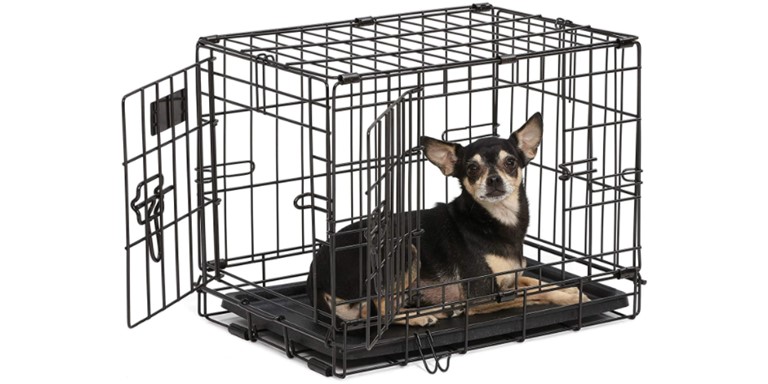 Just what is a dog crate? A crate can be plastic or metal that makes an enclosed pen. Large enough for a dog to stand up and turn. It satisfies his den instinct which can eliminate problems dogs and their owners can experience.
Crates can be used when the owner is away to provide confinement and security and keep him out of trouble. Its purpose is to provide confinement for reasons of safety, security for the dog, house training, prevention of destructive behavior, and travel.
Uses of A Dog Crate
Below are some uses of dog crates:
You:
You can have a peace of mind when leaving home your dog will be comfortable, protected and not develop any bad habits.
You can house train your dog by the confinement that encourages control, establish a regular bathroom routine and prevent accidents at night or when he is left alone.
Your pet can be confined when you have guests, mealtimes, getting over-excited, or being bothered with too much activity (children around the house).
You can use the crates for travel by car for safety.
Your Dog:
When he is tired, he can retreat into his own area with the security of the crate. He also can go there when he is stressed or not felling well.
Learn to control their bathroom business and associate elimination with the outdoors.
He can avoid loneliness of having to be isolated in another place.
Can be included in family outings and not be left behind.
Final Thoughts
Dogs are highly social animals and it's important they are indoors even when you are not home or are sleeping and can't interact with them. Your dog needs to feel that he is a part of the family. That feeling of belonging comes by being included in family activities, living in the house,  and even when the family may not be there.
Remember, crates allow you to leave your dog in the house when you are away, or unable to supervise him. If your pet were to spend large amounts of time outside, they would very likely start to exhibit problem behaviors such as barking, digging, fence jumping and chewing. These problems can be avoided by keeping your pet inside and making them an integral part of the family.
Shop Crates
Below are some of the best brands of crates on the market for your consideration. You will be taken to Amazon where you can read the customer reviews and answered questions. You also have the choice of selecting the size create for your dog's breed.
–