Blueberry Pet Heavy Duty Microsuede Whole Bed
Great Micro-Suede Bed For Small Dogs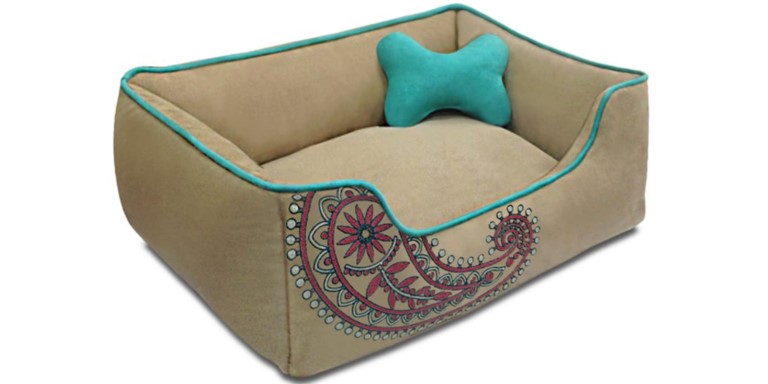 Just Think! 
✓ Bolstered Walls For Support
✓ Machine Washable For Easy Cleaning
✓ Able To Fit In A Crate
✓ Lightweight Polyester Construction
✓ Lightweight For Easy Mobility 
✓ Tailored For Small Dogs
✓ Made With High Soft Polyester Fiber Filling
–
Bolster Lounger Provides Support & Comfort!
✓ Excellent Bed For Small Pet Breeds
✓ Reduces Exposure To Drafts
✓ One Size 20 x 16 x 5.5 Inches
✓ Produces A Cozy Night's Sleep
✓ Provides Comfort & Security 
–
The Blueberry Pet heavy duty microsuede whole bed is unique in that it has a bone shaped pillow that has a squeaker inside to keep your pet enchanted and occupied for hours. Besides getting a wonderful night's rest in the microsuede bed, they will also experience comfort as well.
This bed comes in four colors and two sizes and is great for small size dogs.
The bed is made of thick microsuede fabric which is scratch-resistant. It's filled with 100% recyclable eco-friendly micro fiber which provides comfort and durability.
All dog beds get dirty and the cover and the lining are removable so they both can be machine-washed with similar color items in cold water using the gentle cycle, then tumble dry.
The bed is designed with YKKI zips which are easy to be zipped of and on again.
The bone shaped pillow is not sewn into the bed. It is separate.
Product Specifications
Manufacture: Blueberry Pet
Weight: 6.4 lbs. (Small) 10 lbs. (Medium)
Small Dimensions: 25 x 21 x 10 inches
Medium Dimensions: 34 x 24 x 12 inches
Colors: 8 (Baby Blue & Beige, Baby Pink & Beige, Mahogany & Beige, Pink & Beige Leaves, Blue & Champagne Beige, Paisley & Champagne Beige, Paisley Tango Red, Red & Champagne Beige)
Material: Microsuede Fabric
Filler: 100% Recyclable Eco-Friendly Micro Fiber
Machine Washable: Yes
Cover Removable: Yes
Pillow Included: Yes
Product Made: In The USA
Consumer Feedback
This bed is rated above average, 4.6 stars out of 5, by 1,561 consumers which is excellent. The feedback is based on the following reasons.
I like how the covers are easily zippered and washable.
A very attractive dog bed and a perfect size for my shih tzu.
This bed is well made and worth every cent.
I

actually am pleasantly surprised at the quality of this bed. It is extremely well made and is composed of a heavy suede like fabric. This is a superior pet bed for the price.

This bed is made of excellent quality.
You can read all of the customer reviews by clicking on the following link: Customer Reviews!
Questions People Are Asking About This Bed
Below are some of the 163 questions people are asking about this bed.
Question: Does this bed come with a pillow?
Answer: Yes, a pillow comes with the purchase.
Question: Is this bed made in the USA?
Answer: Yes, it is.
Question: I understand the cover comes off the center cushion for washing. Is the cover removable from the bolstered sides for washing?
Answer: The entire cover is removable and machine washable. It holds up very well, and looks exactly like new even after washing. This bed is extremely well made, and looks really nice in person; it is probably the best dog bed I've ever purchased.
Question: Can you wash the pillow inserts?
Answer: No.
Question: My dog chews on his beds and tries to rip holes in them–would this material hold up pretty well against that sort of thing?
Answer: All I can say is that it is the best dog bed I ever seen. The material is thick and sturdy. I have two dogs one of which likes to chew on things. She tried chewing on this one time and just gave up. She was not able to chew it up. I don't know how aggressive a chewer your dog is but if anything is going to hold up I would think it would be this bed. 
You can read all of the 127 customer reviews by clicking on the following link: Answered Questions!
Pricing
The cost of this bed is provided to consumers so they can compare them with other similar products.
Small: $32.99 – $59.00 (Depending upon color)
Medium: $41.99 – $64.00 (Depending upon color)
Note: The prices for these products are subject to change without notice and may not be the actual price at the time of purchase.
Shop Now
You can shop for this bed by clicking on the image or text link below. You will be taken to the Amazon product ordering page where you can choose the color and size with the order.
Go back to the Dog Luxury Beds home page.
Blueberry Pet Heavy Duty Microsuede Whole Bed
$53.00 (Small) $63.00 (Medium)
Made of Thick Microsuede Fabric
9.0/10
Filled with 100% Recyclable Eco-Friendly Micro Fiber
9.5/10
Ideal blend of Comfort and Durability
9.0/10
Pros
Designed like a sofa, this lounge bed provide a soft and cozy place for your pet to rest and relax.
Made of thick microsuede fabric, scratching-resistant.
Filled with 100% Recyclable eco-friendly micro fiber.
Microsuede soft cover is fully removable and washable.
Internal Dimensions 14"x 11.5"x 5.5", weight 6 Lbs.
Cons
Price.
Bed is for small dogs only.