Big Barker 7″ Pillow Top Orthopedic Dog Bed
Orthopedic Pillow Bed For Large Dogs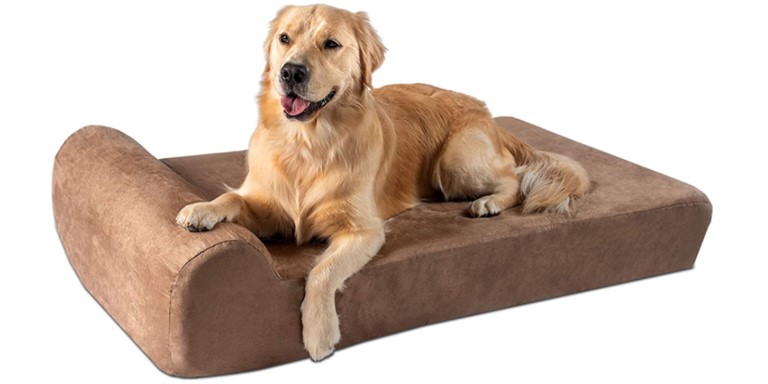 Just Think! 
✓ An Orthopedic Dog Bed That's Guaranteed for 10 Years
✓ Orthopedic Foam That's Totally Made In The USA
✓ 7 Inches of Orthopedic Foam For Comfort
✓ Foam Supports Every Curve of Your Dog
✓ University of Pennsylvania Study Finds Big Barker Beds Improve Quality of Life
✓ Bed Retains 90% of It's Original Shape Over 10 Years
✓ Micro-Suede Cover Is Machine Washable
✓ Improvement In Joint Function
✓ Bed meets CertiPUR-US standards
–
Helps The Aches and Pains and Provides Comfort!
✓ Comes In Four Colors (Burgundy, Charcoal Grey, Khaki – Pictured, & Chocolate)
✓ Provides Relief From Arthritis, Joint Pain, & Hip Dysplasia
✓ 3 Dog Sizes To Choose From (Large, Extra Large & Giant)
✓ Guaranteed For 10 Years Not To Flatten
✓ 4 Inches Contoured Foam Pillow On Top of 7″ Comfort Foam
✓ Hand Made Using Quality Materials 
–
Introduction
The Big Barker 7″ Pillow Top Orthopedic Dog Bed is for large dogs and will provide comfort and support especially for dogs suffering from arthritis, aching joints and muscles. Because dogs nap, snooze and sleep for 14-16 hours a day, a superbly comfortable orthopedic bed is so very important to your dog. This bed fits this concern.
Absolutely no nasty fillers, harmful chemicals or harsh shredded foam is used in making this bed. All beds are hand made in the USA. This bed is bacteria resistant, hypoallergenic and toxin free. Will keep your dog sleeping in completely safety.
The cover is 100% microfiber with a velvet feel. It's exceptionally soft, warm and cozy, and light to the touch.
These beds come in four colors: burgundy, charcoal gray, chocolate, and khaki. The memory foam in these beds will retain up to 90% of their original shape for ten (10) years. It comes with a ten year money back guarantee if it does not hold up to its shape as advertised.
All beds get dirty and this bed is easy to clean as the zipper cover is machine washable. Hairs wipe off easily, can be washed 100's of times, it's shrink proof and tear resistant.
Because this bed is guaranteed for 10 years, the expensive cost for this bed is worth it.
Product Rating & Customer Reviews
This bed is rated 4.8 out of 5 stars, by over 4,380 consumers which is outstanding. You can read all of the customer reviews for this product by clicking on the following link: Customer Reviews!
A sample of some of the customer reviews are below:
The company itself was utterly spectacular, had awesome communication, and accepted a return with a full refund due to my dog's psychological issues with using this bed.
Things are going well, but each night when we brought the dogs in to sleep, it would be a race to see who could get to the Big Barker first. Great bed.
It is absolutely, unequivocally, without reservation or hesitation the greatest dog bed I have ever seen.
This bed is pricey but well worth it and you can tell it is made with high quality materials and with a 10yr warranty you can't go wrong.
My dog is SUPER finicky about EVERYTHING (AKA spoiled) and the first night that we had this new bed, I left his old bed in the same room… and he chose the old bed all night. I was so sad that he didn't love his new bed as much as we did. The next morning I came out to the living room to find him snoring on the new bed!! This is huge because every morning for the past 5 years, I've come out to him sound asleep on our couch… which is what I'm ultimately trying to lure him away from!!
I own a 100 lb Rottweiler who has had ACL tears in both back legs which both required surgery. Its been a year since his 2nd surgery but with combined knee injuries, he has some pretty severe arthritis already, which I'm told will only get worse with age. As a result he has a hard time resting and it is very obvious when he's sleeping that he's just not comfortable. He spends ALL night up-down, up-down, tossing and turning and wandering around the room and in the morning he's clearly very sore and stiff. I've only had the Big Barker bed for about a month now, but so far ALL of these issues have been eliminated. He sleeps through the night now; no more tossing and turning.
Answered Questions
You can read all of the 202 answered questions about this product by clicking on the following link: Answered Questions!
Pricing
The price of these beds are provided to consumers so they can compare them with other similar products.
Large Size: $239.95
X-Large Size: $279.95
Giant Size: $399.95
Note: The prices of these beds are subject to change without notice.
Foam Information
Big Barker dog beds are made with 7″ of superior quality American Made therapeutic foam – a 2″ layer of H10 Comfort Foam, a 3″ middle layer of H45 Support Foam & another 2″ layer of H10 Comfort Foam – the same foam used in expensive furniture. Completely supports every nook and crevice of a big dog's body. Your dog will not sink into the bed, full grown humans feel comfortable laying on a Big Barker too.
Sizes & Dimensions
These beds come in three sizes:
Large: 48″ x 30″ x7″ Weighs: 11 lbs.
X-Large: 52″ x 36″ x 7″ Weighs: 15 lbs.
Giant: 60″ x 48″ x 7″ Weighs: 21 lbs.
Shop Now
Note: When you reach the ordering page on Amazon, you have the option to change the color and size.
Go back to the Dog Luxury Beds home page.
Big Barker 7
$275.95 (Large)
Orthopedic Dog Bed
9.5/10
Foam Will Retain 90% of Original Shape
10.0/10
Orthopedic Foam is Highest Quality
9.0/10
Machine Washable & Easy To Clean
9.5/10
10-Year Money Back Guarantee
10.0/10
Pros
Orthopedic dog bed calibrated for bigger dogs.
American made orthopedic foam is highest quality you'll find in a dog bed. Won't flatten or pancake over time.
Extra Large Product Dimensions: 60 x 48 x 7 inches ; 20 pounds
Foam will retain 90% of original shape & loft for 10 years or your money back.
Made in USA.
Cons
Very expensive.
Bed is made for large dogs.