Better World Pets Quality Orthopedic Dog Bed
  A Quality Orthopedic Dog Bed
Comfortable Orthopedic Dog Bed For All Dogs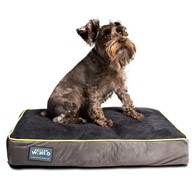 Most dog owners will agree providing their pet with the most comfortable orthopedic dog bed is best for them. The Better World Pets quality orthopedic dog bed provides up to 5 inches of premium quality memory foam for a comfortable nights rest for dogs suffering from arthritis, aching joints and muscles. It has a non-skid bottom for added protection.
All dog beds will get dirty and this one comes with a removable cover that is washable and waterproof which is good for protecting it from dog accidents. Durable cover, waterproof lining and non-skid bottom give added protection.
If you're not completely satisfied within 1 year of delivery, return your Better World dog bed for a full refund of your purchase price – no questions asked! Now that's a great guarantee.
The beds come in sizes that fit small to large dogs. You should find a bed that will give your pet a comfortable place to sleep and help any aches and pains he suffers from.
The bed has 100% memory-foam fill is shredded for pampering softness then densely packed for firmness. Result: a flexible bed that transports easily and keeps its shape nicely. Won't sag or flatten out like other similar dog beds of this type.
Molds to your dog's body for orthopedic comfort and cushions joints and muscles to help relieve aches and pains which give your pet a more comfortable rest and sleep. This bed also helps aging dogs whether they are small or large.
Orthopedic Memory Foam Dog Bed Benefits
Domestic dogs sleep an average of 14 hours a day when they are full grown. This equates to more than half of their lives sleeping. It is very important that pet parents provide their dogs with comfortable sleeping beds and an area where they can call their own on a regular basis.
For instance, there are some benefits that dogs can have with orthopedic dog beds. Some of these benefits are mentioned below:
Extra Joint Support for Older Dogs
Improve Overall Health and Mobility
Superior Comfort
Cozy Spot For Them To Sleep
Extra Joint Support for Older Dogs
According to the American Veterinary Medical Association memory foam orthopedic dog beds are extremely beneficial to senior dogs. Many senior dogs suffer from joint pain, arthritis, and other orthopedic issues. Memory foam orthopedic dog beds will minimize these issues and give your senior dog the overall comfort they need.
Improve Overall Health and Mobility
As all dogs age, they will face the stress of arthritis, joint pain, and aching muscles. Providing them with an orthopedic memory foam bed will give them relief they need and improve their health. These beds will also give them more mobility.
Superior Comfort
Orthopedic dog beds also provide pets with comfort because the memory foam supports their shape in their sleeping position. Dogs need comfort just like humans do. So, do it for them as they cannot speak for themselves.
Cozy Spot For Them To Sleep
Dog owners should be aware that their pets are creatures that instinctively search for a safe place to call their own. This they did when they were in the wild. They would look for a soft area to lay down. By providing them with an orthopedic dog bed, they can find that cozy spot for them to rest throughout the day and sleep at night.
Pricing
The prices for these beds are provided so consumer can compare them with other similar products.
Small: $49.77
Medium: $60.49
Large: $78.77
X-Large: $93.77
Note: The price of this product is subject to change without notice and may not be the actual price you pay at the time of purchase.
Consumer Feedback
This bed is rated above average, 4.5 stars out of 5, by 1,771 consumers because of the following reasons. You can read all of the reviews about this product by clicking on the following link: Customer Reviews!
The cover comes off easily for washing and has a good design with a zipper that opens all the way and it also has a waterproof lining to protect against spills.
This is a great orthopedic bed as my dog can get up easier after lying down.

My dog has a bladder infection that took a while to clear up, so she often leaked during the night. This bed cover has handled 4-5 washings a week for 2 months and is still as good as new.

This is a nice 5" thick memory foam dog bed. Our dog is 25 pounds and is 7 years old and I wanted to protect her joints. The size of this bed is perfect 24" x 18". She loves it!! She keeps going in her kennel to lay down now. The cover comes off easily for washing and has a good design with a zipper that opens all the way and it also has a waterproof lining to protect against spills.
Nicely made. My dog loves her bed. It fits in a standard crate. The fabric is very plush and water resistant. It removes for washing.
Our German Sheppard absolutely loves this bed. Great quality mattress. Had some issues with the zipper cover that the seller handled immediately. Highly recommend this seller and the product.
I like that fact that this bed is made in the USA and 10% of the profits are donated to the Humane Society.
Questions People Are Asking
Below are some questions people are asking about this product.
Question: Where is this product made?
Answer: In the USA.
Question: Is this bed suitable for prolonged outdoor use for a 60 lb husky?
Answer: The bed is fine outdoors if it's under cover. It shouldn't sit in standing water though. Make sure it's on a deck or elevated surface. Prolonged sunlight will also fade the colors over time.
Question: Is the bed truly waterproof? Has anyone used it for a pup who occasionally pees in their bed?
Answer: My senior dog pees her bed and this absorbs it on the outer cover, which you can just throw in the wash, and the inside is completely dry and pee free. I'm going to buy another cover so I can have one on the bed and one in the wash at the same time. Totally recommend it.
Question: What are the cover washing instructions?
Answer: It is best washed on a gentle setting and left out to air dry. This will help the cover remain waterproof. 
Question: Is the foam a solid piece or is it shredded foam?
Answer: The small and medium beds are 4 chambers that run horizontally packed tight with shredded high quality memory foam. 
You can read all of the 131 answered questions about this product by clicking on the following link: Answered Questions!
Colors, Sizes and Dimensions
Colors
Grey with Rave Green Trim (Available in all sizes)
Sizes and Dimensions
Small: 24″ x 18″ x 5″ (For dogs weighing between 1 to 20 lbs.)
Medium: 36″ x 24″ x 5″ (For dogs weighing between 21 to 50 lbs.)
Large: 40″ x 28″ x 5″ (For dogs weighing between 50 to 80 lbs.)
X-Large: 46″ x 36″ x 5″ (For dogs weighing between 80 to 120 lbs.)
Shop Now
You can shop for this bed by clicking on the image or text link below. You will be taken directly to the Amazon product ordering page where you can specify the color and size with the order.
Go back to the Dog Luxury Beds home page.
Better World Pets Quality Orthopedic Dog Bed
$89.77 (Large)
Gently Cushions Pressure Points
9.5/10
Fits In Tight Spaces
9.5/10
Non-Skid Bottom Give Added Protection
9.0/10
Pros
Your pooch will love this 5" thick bed that gently cushions pressure points so seniors with arthritis, dysplasia & more are comfy.
Durable cover, waterproof lining and non-skid bottom give added protection.
Sleek silhouette that fits in tight spaces.
Product Dimensions: 24 x 18 x 5 inches
Zippered cover that quickly removes for washing.
Cons
Price.
Bed limited for small dogs.