Bergan Comfort Carrier Soft Sided Pet Carrier Large Black
Safe For Pets Traveling In a Car or Airplane
Carrier Fits Dogs Under 22 Pounds In Four Colors.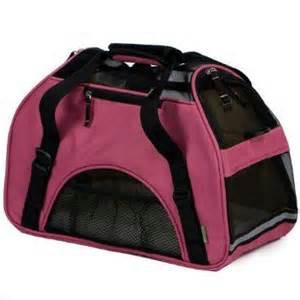 Do you own a pet? Do you like to travel a lot? When you travel, do you like to bring your furry friend with you? If you answered yes to any of these questions, you may want to consider the Bergan Comfort Carrier Soft Sided Pet Carrier Large Rose Wine. This carrier bag is safe for carrying your pet when traveling in a car or on an airplane.
They do come in three other colors, mineral blue, rose wine, and spinach green.
When traveling with a pet, they need to be safe and secure whether flying or going by automobile. The large comfort carrier fits pets up to 22 pounds.
In the event that you have problems in lifting your pet in one of these carriers, you can opt for the one that comes on wheels which helps when having to walk from the landing terminal to the entrance of the airport which can be quite a hike.
The topics that will be covered here are:
Bergan Comfort Carrier Review Video
This is an excellent video of the Bergan Comfort Pet Carrier by an owner. Take a look!
Back to Bergan Comfort Carrier Soft Sided Pet Carrier topics.
Product Description
The description of this product is described below so it can be used as a comparison with other similar products.
Small model fits pets up to 8 lbs.
Large model fits pets up to 22 lbs.
Comes with a soft fleece bed pad which is washable
Panel insert helps keep carrier shape and removed for washing
Shoulder strap
Adjustable and padded strap for comfort
Mesh panels for maximum ventilation and accessibility
Half zip opening in one end
Pet connector side zipper to safely interact with your pet
Dimensions: Large: 19" x 10" x 13"
Large With Wheels: 19" x 10" x 13"
Small: 11.5" x 17" x 8"
Weight: 2.5 pounds
Colors: Black, Mineral Blue, Rose Wine, Spinach Green
Sizes: Small, Large, & Large with Wheels
Identification Tag
Three exterior pockets
Airline compliant
Safety belt loop allows the carrier to be restrained with vehicle seat belt
Back to Bergan Comfort Carrier Soft Sided Pet Carrier topics.
Product Pricing
The pricing for the Bergan carriers are going to vary from time to time due to the discounts being offered at the time of purchase. The price of this product is subject to change without notice.The prices for all models are provided so consumers can compare them with other similar products.
BEGAN COMFORT PET CARRIER
Color
Black
Blue
Wine
Green

Small Size

List Price:
$34.99
$34.99
$34.99
$44.99
Discount:
$10.00
$10.00
$9.00
$20.00
Current Price:
$24.99
$24.99
$25.99
$24.99

Large Size

List Price:
$39.99
N/A
$54.99
N/A
Discount:
$10.00
N/A
$25.00
N/A
Current Price:
$29.99
N/A
$29.99
N/A

Large w/Wheels

List Price:
$69.99
N/A
N/A
N/A
Discount:
$40.00
N/A
N/A
N/A
Current Price:
$29.99
N/A
N/A
N/A
Back to Bergan Comfort Carrier Soft Sided Pet Carrier topics.
Amazon Product Rating
This pet carrier was purchased by over 1,870 customers who have rated this product with an average score of 4.0 out of 5 stars, which is very good. The large carrier black is also a number one best-seller on Amazon in the Dog Soft-Sided Carriers category.
Back to Bergan Comfort Carrier Soft Sided Pet Carrier topics.
Consumer Reviews For The Bergan Pet Carrier
You do not have to take my word for it, but how about the written responses of over 1,870 customers who purchased and used the product. Some of these will be mentioned below. If you want to read all of the reviews about this product,  Click Here!
By Amazon Customer, January 31, 2015 – The Second Time Worked Out Great (Large, Black)
When I received the replacement from Amazon (the first one was bent out of shape and the strap was missing) I inspected the carrier. It is quite sturdy, the zippers have and extra clasp which snaps together to keep the dog from getting out, the carrier has slots in front for attaching the carrier to a seat belt, it has a couple of pockets sufficient for travel bowls and food. It has great ventilation, my 5lb Yorkshire Terrier fits in it perfectly with room to turn around, and the greatest thing- from the moment he stepped in- he loved it! This is a very well made product at a reasonable price- good for traveling in the car or on the plane.
By Juliet, January 31, 2015 – Great Purchase! (Large, Black)
A little long on shipping because of the holiday (New Years) but that's not really their fault. The product is sturdy and good quality.. I love the fact you can loop it to the seat belt for safe driving.. It also has the pet connect zipper which is great for my cat… She's needy haha… But overall very happy with the purchase… No complaints. It fits my larger pixie bob cat perfectly. Have not taken on an airline yet but I'm confident it would fit under the seat.
By Rosie R. Soriano, January 29, 2015 – My Yorkie Chihuahua Mix Loves It
Phenomenal product! MY yorkie / chihuaha mix loves it (9lbs) and its so easy to carry her to the vet / travel. A recommended buy for any dog under 20lbs!
By Carl Collins, January 5, 2015 – Perfect (Wine Rose)
I bought and used the carrier to transport my 13 year old puppy on his first flight from Dallas to Los Angeles. I was very pleased with there quality. I was even more pleased that Calvin was so comfortable in it that he slept the whole flight. If there were more than 5 stars you would get them all. Thanks.
By Loves To Shop, January 4, 2015 – You…Will…Love…It (Large, Black)
Perfect size, quality, functionality……pup LOVES IT!!! can use in auto because it has seat belt loops……only thing I would caution on is the zippers on either end when going around the corners…..my pup is fullgrown and weighs 10 lbs and is long……would not carry more than that in it……he fits perfect in it with room to spare and even turns around in it……Meikosan is a Japanese Chin…….ENJOY!!
Back to Bergan Comfort Carrier Soft Sided Pet Carrier topics.
Purchase Link for Bergan Comfort Pet Carrier
To purchase this comfort pet carrier just click on the image below. You will be taken to the order page where you can select the size and color. You also have the option in selecting the Bergan large, black on wheels model too.
Return to Bergan Comfort Carrier Soft Sided Pet Carrier topics.
Back to Dog Luxury Beds home page.