Aspen Pet Round Bed Animal Print
Round Plush Pet Bed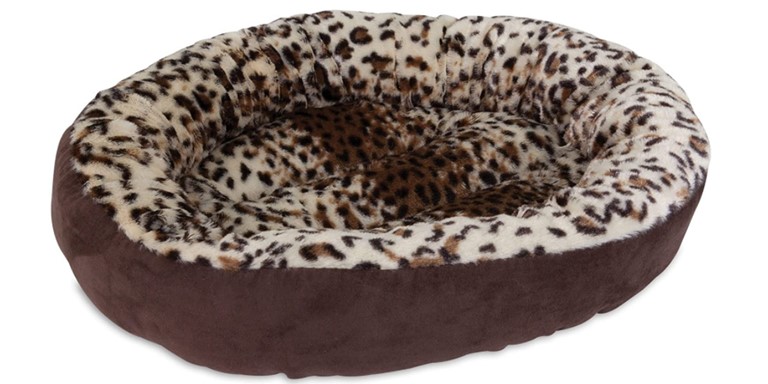 Just Think! 
✓ Bolstered Walls For Support
✓ Machine Washable For Easy Cleaning
✓ Lightweight Polyester Construction
✓ Easy To Move Around
✓ Tailored For Small Dogs
✓ Made With High Soft Polyester Fiber Filling
–
Protection For Small Dogs That Like To Cuddle!
✓ Excellent Bed For Small Pet Breeds
✓ Reduces Exposure To Drafts
✓ Produces A Cozy Night's Sleep
✓ Provides Comfort and Security
–
The Aspen pet round bed animal print has plush material and will make a nice sleeping addition for small dogs. If your pet cuddles or sleeps in a semi-circle, this bed will provide the comfort and support they are looking for.
The bed comes in only one size and color (brown) and is definitely for small dogs. The bed is machine washable for easy care. Instructions for washing the bed are; machine wash separately in cold water using a mild detergent, and fluff dry. It's ready to use again.
The style of the bed has paw prints on the inside of the round bed for an unusual pattern.
The bed also comes with a non-stick base to help prevent it from moving around. Because it's lightweight, it can be moved around the house from room to room very easily.
This bed is great for dogs that like to sleep with something on their back or in a semi-circle.
Size and Dimensions
Small: 18″ x 18″ x 5″ (outside) Inner Dimensions: 12″ x 15″
This bed weighs about 1 pound and is recommended for small dogs.
Pricing
The cost of this bed is provided so customers can compare them with other similar products.
Note: The price of this product is subject to change without notice and may not be the actual price you pay at the time of purchase.
Consumer Feedback
This bed is rated above average, 4.6 stars out of 5, by 929 which is excellent, by consumers for the reasons mentioned below. You can read all of the customer reviews about this bed by clicking on the following link: Customer Reviews!
I have a 6.5 pound yorkie that loves this. It is a good size and so soft. It is well made also. I cant believe the price, its a steal. It looks like the picture and is even bigger than I thought it would be for the price. I am so glad that someone sells a decent affordable bed because my little one would still lying on a towel. Thats how much he hated his other bed, he would rather lay on a towel and I paid a little more for that bed than I paid for this one. I wish I saw this one sooner. This one is pillowy and looks so comfy. It makes Gus' seal of approval and he is a very picky little guy. I know I am babbling but I was saving this for a Christmas present for him but after I saw it I couldnt wait to give it to him and I am so glad that he loves it
So we got one in the 20″ (I left a review for that one, too). The 20″ is super popular with all 3 dogs. I think it's because the biggest dog heads for the 20″ one first – not his own. So the little dogs all compete. But whatever the reason, they all love these beds.
Although my baby loves sleeping in my bed more, this is a great alternative. I was worried that the bed was going to be too small for my 4 pound pup but she fits perfectly with more than enough room for her favorite toy/best friend. As soon as I opened the package and put the bed in the ground she hopped right in and fell asleep. Great product very good material, it's holding up well during her teething stage.
This is the perfect size for my 6lb Chihuahua. He has plenty of room to stretch out if he wants. The bottom is really cushiony. It is sewn into three sections lengthwise. Each are pretty full. The outer bolster is nice and firm, but not stiff. The fabric is soft and plush. I can say it washed up great! No shredding, the filling didn't shift.
I have a ten pound shih tzu and she loves this bed. She fits perfectly in it all curled up and it keeps her warm. She has gone to the bathroom on it and smelled quite bad. I put it in the washer and dryer and it came out as good as new.
Answered Questions
You can read all of the 19 answered questions about this product by clicking on the following link: Answered Questions!
Shop Now
You can shop for this bed by clicking on the image or text link below. You will be taken to the Amazon product ordering page where you can place the order.
Go back to the Dog Luxury Beds home page.
Aspen Pet Round Bed Animal Print
$11.08
Promotes the Nesting Instinct
9.0/10
Helps Reduce Exposure To Drafts
9.0/10
Filled with High-Loft, Recycled Polyester Fiber
9.0/10
Lightweight for Easy Transportation.
9.0/10
Pros
Raised sides helps promote the nesting instinct.
Helps reduce exposure to drafts.
Filled with high-loft, recycled polyester fiber fill that will make pets feel like they are on cloud nine.
Machine washable for easy care.
Product Dimensions: 18 x 18 x 5 inches ; 3.5 pounds
Cons
Bed best for small dogs up to 10 lbs.