Aspen Pet Oval with Bone Applique Dog Bed
Oval Bed For Dogs That Like To Cuddle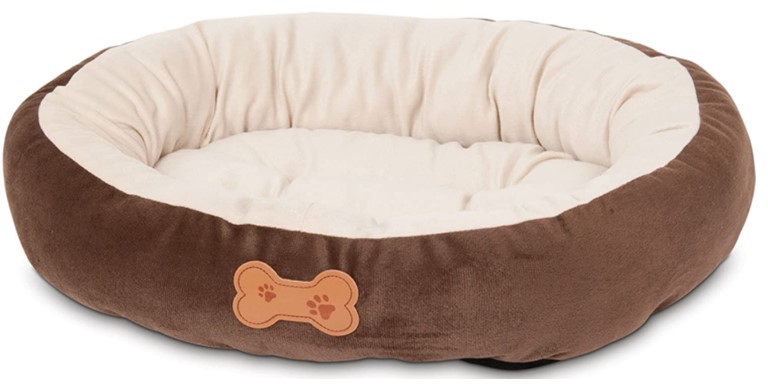 Just Think! 
✓ Bolstered Walls For Support
✓ Machine Washable For Easy Cleaning
✓ Able To Fit In A Crate
✓ Lightweight Polyester Construction
✓ Lightweight and Portable For Easy Mobility 
✓ Tailored For Small Dogs
✓ Made With High Soft Polyester Fiber Filling
–
Comfortable Bed For Small Dogs!
✓ Excellent Bed For Small Pet Breeds
✓ Reduces Exposure To Drafts
✓ One Size 20 x 16 x 5.5 Inches
✓ Produces A Cozy Night's Sleep
✓ Provides Comfort & Security 
–
The Aspen Pet Oval with bone applique dog bed has raised sides which helps promote the nestling instinct and reduce exposure to drafts while sleeping. If features on the front a decorative bone applique.
The bed is filled with high-loft, recycled polyester fiber fill that is comfortable for your pet. The bed is machine washable for easy care.
It is also light enough to move around the house from room to room.
It has solid fabric with contrasting plush sleep area to give your pet the best comfort.
Washing instructions do not come with this bed. There are included here.
Wash the bed using the warm wash on a regular cycle and then dry it in the drier.
Bed Purchasing Tip
When thinking about purchasing a dog bed for your pet take into account if he is full grown yet. Buy a bed that he will be able to grow into over time if you have a puppy. Otherwise, you will be throwing the bed away for a larger size. Most puppies reach adulthood within 9 to 14 months depending upon breed. Larger dog breeds can take anywhere from 18 to 24 months. You need to consider this when purchasing a bed.
Size and Dimensions
This bed has only one size and color brown.
Small: 20″ L x 16″ W x 5.5″ H (Outside Dimensions) Weighs: 1.2 pounds. For dogs weighing 10 lbs. or less.
Note: The sleeping area for this bed is about 14-inches.
Pricing
The cost of this bed may change from time to time due to any discounts being offered at the time of purchase.
Awards: Amazon's Choice
Current Price: $12.34
Note: The price of this product is subject to change without notice.
Consumer Feedback
This bed is rated above average, 4.4 stars out of 5, by 6,185 consumers which is very good. You can read all of the customer reviews for this product by clicking on the following link: Customer Reviews!
Below is a sample of what some customers are saying:
This dog bed is fantastic. Our dog fell in love with it on Christmas morning and spends most of his "unoccupied" time in it. It is just the right size, nice and soft, and the low sides are just right for him to look over and keep track of what's going on. Recently, I left a small blanket beside it and he has actually learned to arrange it around himself for even more comfort.
he most important parts of a dog bed is: Does it have good side support for nesting..this one DOES Does the bed have a thick soft padded bottom..yep this one DOES
Will your yorkie use it..yes in deed..he DOES
When I first presented her with her new bed, she immediately tried to eat it. Then she tried to flip it over in order to lie on the flat side. She's not the smartest dog. But she did finally figure out how to use it correctly and has pretty much been living in it ever since. She used to beg for cuddles all the time while I was trying to work, but now even when I want to cuddle with her she will only tolerate it for a minute or two before going back to her nest.
This bed is a winner in our house! When it arrived I thought it was too small for the dog for which it was intended but she loves it! She curls up in it when she's cold. Sometimes she uses the side as a headrest and other times she tucks her head between the side and her body. I'm so glad she likes it. It seems made well and soft.
I bought this mini dog bed for my friend who just got a new puppy. Her puppy Charlie's adores this dog bed! It's the perfect size for a smaller dog or even a medium sized one. The cushioning is nice and I love the little bone accent on the front.
Answered Questions
You can read all of the 31 answered questions by clicking on the following link: Answered Questions!
Shop Now
You can shop now for this bed by clicking on the image or text link below. You will be taken to the Amazon product ordering page where you can place the order.
Go back to the Dog Luxury Beds home page.
Aspen Pet Oval with Bone Applique Bed
$11.74
Promotes the Nesting Instinct
9.0/10
Reduces Exposure To Drafts
9.0/10
Filled with High-Loft Recycled Polyester Fiber
9.5/10
Features Solid Fabric With Contrasting Plush Sleep Area
8.5/10
Pros
Raised sides help promote the nesting instinct, & reduce exposure to drafts.
Filled with high-loft, recycled polyester fiber fill that will make pets feel like they are on cloud nine.
Machine washable for easy care.
Features solid fabric with contrasting plush sleep area and decorative bone applique.
Product Dimensions: 20 x 16 x 5.5 inches
Cons
Price.
When cleaning, use the warm wash on a regular cycle and then dry it in the drier.
Good for small dogs under 10 lbs.