All-Natural Beds Helps the Environment!
Introduction
Our furry friend deserves the best and an all-natural dog bed can be of help to protect your dog from unhealthy chemicals but also provide comfort and support. When it comes to providing your faithful companion with the utmost comfort and care, the choices we make matter. Just like humans enjoy the luxury of sleeping on comfortable and supportive mattresses, our furry companions deserve the same consideration. The all-natural dog beds have emerged as a popular choice for pet owners who value the health and well-being of their furry friends and the environment. In this article, we'll delve into some of the benefits of all-natural dog beds. We will also explore their advantages over synthetic alternatives and shedding light on the various materials and styles you can choose from.
The Rise of All-Natural Dog Beds
Some conventional pet beds are made with toxic chemicals that can have long-lasting effects on your dog's overall health. This not only effects your dog, but also other family members. All-natural dog beds are made with non-toxic materials that will not harm your furry friend. As our understanding of sustainability and the environment grows, so does our awareness of the impact of synthetic materials used in making dog beds. The pet industry is no exception to this trend, with a surge in demand for eco-friendly and all-natural products. All-natural dog beds are crafted from organic and sustainable materials and have gained traction among pet owners who seek to provide their furry friends with a restful sleep while minimizing their carbon paw print.
Benefits of All-Natural Dog Beds
 Now, let's explore some of the benefits of all-natural dog beds.
Health and Comfort: Just as humans can benefit from organic and natural materials, dogs can also reap some of these rewards by sleeping on all-natural surfaces. These beds often use materials such as organic cotton, hemp, wool, and natural latex, which are hypoallergenic and less likely to cause skin irritations or allergies in sensitive pets. These materials also offer optimal support and comfort that promotes healthier joints and muscles. The beds also offer support for aching joints and dogs that suffer from arthritis.
Eco-Friendly: Traditional dog beds often utilize synthetic materials that are derived from non-renewable resources and may contribute to landfill waste. All-natural dog beds, on the other hand, are often biodegradable and made from renewable materials that have a lower environmental impact. By choosing these beds, pet parents contribute to a healthier planet for their pets and future generations.
Breathability: Natural materials such as cotton and wool are highly breathable, helping to regulate your dog's body temperature. This is particularly beneficial in warmer months, which helps prevent your pet from overheating and ensuring a more comfortable night's sleep.
Odor Control: Many synthetic materials can trap odors, that results in unpleasant scents in your home. All-natural materials, especially wool, have a natural odor-resistant properties. This helps to keep your dog's bed smelling fresh.
Chemical-Free: Synthetic dog beds can sometimes contain harmful and toxic chemicals, including flame retardants and volatile organic compounds (VOCs). All-natural dog beds are often free from these chemicals, which provides a safer and healthier sleeping environment for your furry friend.
 Please Note: Some beds purchased from China may contain toxic and harmful chemicals in the manufacturing of their dog beds.
Materials and Styles
We will share some of the materials and styles that the all-natural dog beds are made of.
Organic Cotton: Beds made from organic cotton are soft, breathable, and gentle on your dog's skin. They come in various styles, from simple mats to plush bolsters, catering to different preferences and needs.
Hemp: Hemp is a durable and eco-friendly material that can withstand wear and tear. It also is naturally resistant to mold and UV rays, making it an excellent choice for outdoors. If your dog likes the outdoors, this is a great option to choose.
Wool: Wool is a fantastic insulator, keeping your dog warm in the winter and cool in the summer. It is also moisture-wicking, which helps regulate the body temperature and keeps the bed dry. This helps mold from forming.
Natural Latex: Beds that are made from natural latex provide excellent support and cushioning for your dog's joints. They are often hypoallergenic and resistant to dust mites and other allergens. This material is breathable, mold, mildew resistant, antibacterial and antifungal. It also has no flame retardants.
Bamboo: Bamboo-derived fabrics are soft, moisture-wicking, and naturally antimicrobial. They make an excellent choice for dogs that are prone to allergies or skin sensitivities.
Continued Maintenance
The all-natural dog beds are great for your dog and will help keep them cleaner. However, you must still do some cleaning maintenance to the dog bed. This requires you to keep the cover of the bed clean by washing it at least once every other week. As your dog goes outside and then rests on his bed, he will track in stuff that will rest on the bed and make the bed emit an odor that he may not like over time. Dogs have an extremely excellent sense of smell, and if they should smell an odor on their bed, they may not use it. By washing the bed periodically, you can keep the bed fresh, and your furry friend will be using it regularly. When shopping for these beds, look for the brands that make dog beds in the USA. These beds will not have harmful toxins and chemicals that can be harmful to your dog and other family members.
Conclusion
As a responsible pet owner, your decision regarding the products you provide for your furry friend have a far-reaching consequence. All-natural dog beds offer a harmonious blend of comfort, sustainability, and health benefits that you and your dog can appreciate. From organic cotton to hemp, wool to natural latex, the array of materials available ensures that there's an option for every pet's unique needs. By choosing all-natural dog beds, we not only enhance the quality of your pet's sleep but also contribute to a more environmentally conscious and compassionate world. So, let your furry friend rest easy on a bed that's as king to them as it is to the planet. Remember, just select the material that is best for your pet. Also, be sure to know his sleeping style so you can match the bed with it. Go back to the Dog Luxury Beds home page.
Shop All-Natural Dog Beds
Now, you can shop for all-natural dog beds by selecting or clicking on any image below. You will be taken to Amazon where you can purchase the product. While there, you can read the customer reviews and answered questions. As an Amazon associate, I earn from qualified purchases.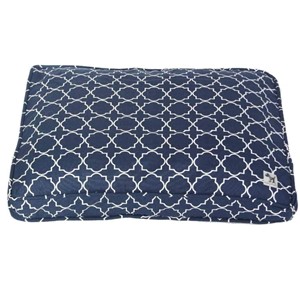 Molly Mutt Crate Pad
Molly Mutt Crate Pad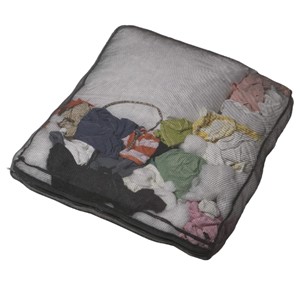 Molly Mutt Bed Mattress
Molly Mutt Bed Mattress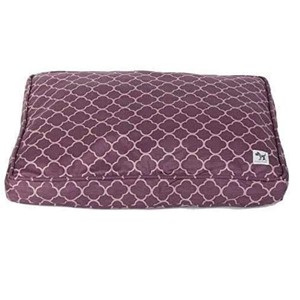 Molly Mutt Crate Pad
Molly Mutt Crate Pad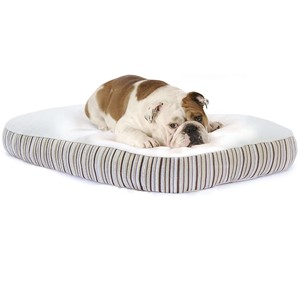 Essentia Kingston Medium Organic Dog Bed
Essentia Kingston Medium Organic Dog Bed
Essentia Kingston Medium Organic Dog Bed"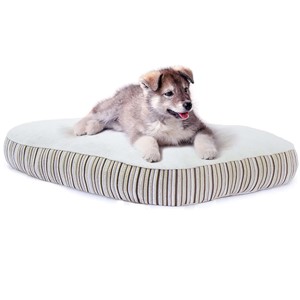 Essentia Kingston Small Organic Dog Bed
Essentia Kingston Small Organic Dog Bed
Essentia Kingston Small Organic Dog Bed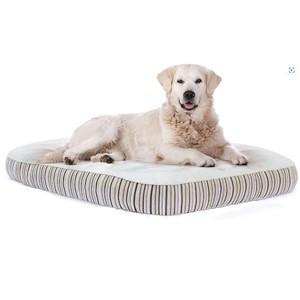 Essentia Kingston Large Organic Dog Bed
Essentia Kingston Large Organic Dog Bed
Essentia Kingston Large Organic Dog Bed
Related Articles
Below are some related articles that you might be interested in reading.