Orthopedic Dog Beds Made In USA
Orthopedic Beds Relieve Aching Joints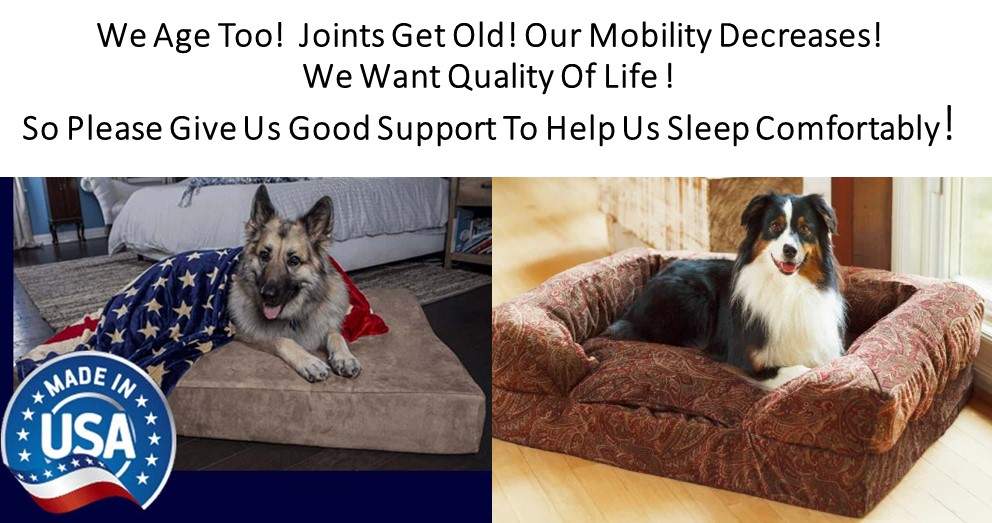 Orthopedic Dog Beds made in the USA are all about the foam.
The Foam Is Made In the USA.
USA made foam contains the following characteristics.
✓ Does not have a toxic smell or dangerous filler materials.
✓ Is dense enough to keep your dog from sinking to the floor if you buy the bed by dog weight.
✓ Is protected from chewers if the bed is advertised as chew proof. Chew resistant is not chew proof.
✓ Supports joints and relieves pressure points if layers of differing density foam is used.
–
Made in the USA means you can trust the product label.
Look for the Certi-PUR-us certification symbol.
We found only one US made Orthopedic brand that was not certified. Even without certification, US foam does not contain harmful metals and toxic odors. (See the brands below.)
–
Certi-PUR-us means:
✓ Made without PBDEs, TDCPP or TCEP ("Tris")
✓ Uses flame retardants
✓ Made without mercury, lead and other heavy metals
✓ Made without formaldehyde
–
Orthopedic dog beds made in USA use memory foam or layers of memory foam and therapeutic foam that keeps its shape even under the weight of a large dog and gives off a clean foam smell.
The issue with orthopedic dog beds made outside the USA is the materials used. It is not unusual to find heavy metals like lead, arsenic, and mercury included to create a false sense of support. Not only does the support fail, but the materials used give off unhealthy fumes for the pets and humans living in the home. And it is rare to find a warranty and certainly not a multiple year warranty that made in USA carries with it.
Yes, USA Orthopedic foam hits a home run every time.
It gives dogs better rest with more comfort for joints and there isn't the sinking and hitting the floor with every movement.
Benefits of Orthopedic Beds
What are the true benefits of quality made orthopedic beds? Their value is for the immediate with an eye on the future.
Your pet may be very active now, but as he ages, joints age too and the need for comfort and support changes. That's why an orthopedic dog bed is good for the long haul.
So what does such a bed have to offer?
✓ Provides for even weight distribution during sleep
✓ Gives relaxation and joint and muscle rejuvenation
✓ Relieves arthritis, muscle and joint pain
✓ Supports pressure points so they don't cause pain
✓ Helps hip dysplasia and surgery recovery
–
These benefits are significant because this is what it means for your pet.
✓ Better rest
✓ Better mobility longer in the aging process
✓ Better gait for long walks
✓ More energy because sleep quality offers rejuvenation
✓ Overall better quality of life
–
What is it that makes all of these benefits possible?
✓ Fillers are not used
✓ Depth and firmness of the foam; Some are 7 inches deep
✓ Combination of memory foam and therapeutic foam. Two layers is better.
✓ Pure memory foam sinks.
✓ Memory gel absorbs heat and wicks it away
✓ Gel microbeads added to memory foam increases support
✓ CertiPUR-US(R) certification means the bed is made from a foam that is free of harmful chemical substances
–
Properly made orthopedic beds will provide lasting results by relieving aching joints and muscles, improve mobility and provide comfort for pain. These beds are especially good for aging pets. Look for a good quality orthopedic dog bed made by reputable companies in the USA.
What You Need To Know Before Buying
Before you actually go out and purchase an orthopedic bed, you need to know a few things about your pet. Orthopedic dog beds come in different shapes like rectangular, round, and bolster. You need to know which bed and shape is best for your dog.
Here are some tips to assist you.
Know you dogs sleeping style
✓ Your dogs sleeping position will determine the bed shape to buy.
✓ Sprawlers and leaners like a rectangular bed. Curlers like a round bed. Burrowers like a cave bed.
✓ Leaners and curlers like a bolster bed. Some leaners like a head bolster; others like a side bolster. Curlers want at least a half or a full sided bolster.
–
Know you dogs weight
✓ Orthopedic dogs beds have weight range and limits to be effective.
✓ Some brands are noted for providing ortho support for large and extra large dog breeds. Others have beds for smaller dog breeds.
–
Know you dogs health condition
✓ What degree of support is needed? Is support needed only for aching muscles and joints, arthritis, recover from recent surgery or hip dysplasia
✓ Aging dogs experience joint pain. This is especially true of senior dogs. They need support in so many ways.
–
Know the climate
✓ Elevated beds are better when a cold floor and drafts exist.
–
Measure for the right dimension size
✓ The Length – Measure from the nose to where the tail is attached and add 5 inches.
✓ The Width – Measure from the paws to the top of the body and add 5 inches.
✓ Look for a bed that best fits these dimensions.
Other Things To Consider
✓ Is Care important? These beds have washable covers.
✓ If you don't mind if the bed foam is manufactured in the U.S.A. and has been rigorously tested to ensure it meets standards for content, emissions, and durability, but the cushion is actually constructed overseas and then it shipped back to the US for assembly, shipping and customer support, Furhaven is another brand worth considering.
–
Dog Beds Comparison By Brand
Warranty
If warranty is important, here are the warranties by length and brand.
Lifetime
✓ Gunner warranty is lifetime for the original owner.
✓ Big Dog Beds, and Beyond Beds also gives a lifetime warranty.
✓ Molecule warranty is lifetime for the original owner with 30 – 100 days risk free trial. Mattress foam will not sink more than 1 inch while in use.
✓ Gorilla also gives a lifetime warranty for the mattress and 125 day for chew proof.
–
20 years:
✓ Bully Bed warranty is 20 years and chew proof beds is 200 days.
–
10 years:
✓ Big Barker warranty is 10 years with a one year no risk period. It must retain at least 90% of its original shape, size and supportive power.
✓ Buddy Rest has a 10 year warranty with a 100 day no risk period.
✓ MyPillow has a 10 year warranty.
–
3 year:
✓ Brentwood and Brindle offer a 3 year warranty.
–
1 year:
✓ Kurada, Snoozer, Casper, and Sealy offers a 1 year warranty.
✓ Purple offers a 1 year warranty and a 100 day trial period.
–
120 days:
✓ K9 Ballistic and eLuxury offer a 120 day warranty.
–
90 days:
✓ Furhaven gives a 90 warranty and a 60 day risk free trial.
–
30 days:
✓ Majestic Pet Products offers a 30 day warranty.
✓ Dog Bed King, Animals Matter and Bedsure offers a 30 day warranty.
–
–
The following will help you to determine which bed will be most comfortable for your dog breed.
Recommended Foam Density And Thickness By Dog Breed
Small Breed Dog Bed Foam
3″ Memory Foam Dogs 20 Pounds and Under
Medium Breed Dog Bed Foam
3″ Memory Foam Dogs 50 Pounds and Under
Large Breed Dog Bed Foam
4″ Memory Foam Dogs 75 Pounds and Under
Extra Large Breed Dog Bed Foam
5″ Memory Foam Dogs 100 Pounds and Under
Extra Extra Large Breed Dog Bed Foam
6″ Memory Foam Dogs 125 Pounds and Under
Extra Large Breed Dog Bed Foam
7″ Memory Foam Dogs 125 Pounds and Above
Dog Bed Comparison By Foam
As we already mentioned, the foam used in dog beds varies from 2 inches up to 8 inches thick. The list below will show the brands and their foam thickness so you can determine which one to purchase for your dog based on his breed.
Brands With 2-3 Inches of A Foam Base
✓ Animals Matter 2.5 Inches of Foam
Brands That Have Gone The Extra Mile
✓ The following brands have gone the extra step to become CertiPUR-US(R): Animals Matter, Bedsure, Big Barker, Brentwood Home (selected beds), Buddy Rest, Dog Bed King, eLuxury, K9 Ballistic, Good Dog Mattress, Gorilla, Kurada, Snoozer, Majestic Pet Products, Pet Fusion, Sealy Dog Beds.
✓ Is a chew proof bed necessary? K9 Ballistic specializes in chew proof beds.
✓ Is an elevated bed preferred? Kuranda specializes in them.
✓ Is a round bed preferred? Snoozer specializes in round, donut and cave beds.
✓ Is a bolster bed preferred? BIg Barker specializes head bolster support.
–
Final Thoughts
Dog's experience aching muscles and joints just like humans do. So, an orthopedic bed will provide him comfort and is better for his health. As a pet owner this is your most important role in keeping your dog comfortable and healthy.
Providing your dog with any bed is better than having them sleeping on a cold hard floor. By not providing your pet with a bed you may find him sleeping on furniture or in your bed to keep warm and off the floor. If you don't want your dog to sleep with you or on furniture, get him a bed as soon as you can after bringing him home from the vet.
It is important to know up front that orthopedic beds are more expensive than other beds. The reason being is the material used in making the foam. Be sure to set aside money in the budget for these beds.
–
Shop Orthopedic Dog Beds Made In USA
Below are orthopedic dog beds made in the USA. Just click on any bed of interest and you will be taken to Amazon where you can place the order. On the page, you can read the customer reviews, and answered questions before purchasing. Be sure to select the size and color of the bed you are ordering if those options are available.
#1. Big Barker Orthopedic Dog Bed
These beds are made for large dog breeds. All materials are made in the USA. Comes with a head rest. These beds are guaranteed not to flatten out for 10 years or it will be replaced free. There is also a bed that comes without a head rest. A link for that bed will be included.
Sizes: Large, Extra Large, Giant
Dimensions: L-48 x 30 x 7 Inches; XL-52 x 36 x 7 Inches; Giant-60 x 48 x 7 Inches
Colors: Burgundy, Charcoal Gray, Chocolate, Khaki
Material: Microfiber
Cover: Machine Washable
#2. Dog Bed King Dog Beds
These beds are for medium to large size dogs. They are great for dogs that like to cuddle when sleeping. The bed is an oval shape.
Sizes: Medium, Large, X-Large
Dimensions: M-26 x 21 x 7 Inches; L- 33 x 23 x 7 Inches; XL-40 x 28 x 7 Inches
Fits Dogs: Medium (Up to 35 lbs.), Large (Up to 50 Lbs.), X-Large (Up to 100 lbs.)
Colors: Beige/Cream, Brown/Cream, Grey/Cream, Blue/Cream
Orthopedic Foam Base: Yes
Cover: Machine Washable
#3. Kuranda Elevated Aluminum Dog Bed
This is an elevated dog bed that is chew proof. These beds are designed to keep pets cool on hot day's when indoors or outdoors. Weight capacity of these beds is 250 lbs. regardless of size. It comes with a 1- Year warranty. Some assembly is required.
Sizes: Small (30 x 20), Medium (35 x 23), Large (40 x 25), XL (44 x 27) XXL (50 x 36)
Dimensions: S-30″ x 20″, M-35″ x 23″, L-40″ x 25″, XL-44″ x 27″, XXL-50″ x 36″
Colors: Burgundy, Royal Blue, Forest Green, Smoke
Easy To Clean Fabric: Yes
Indoor/Outdoor Use: Yes
#4. Snoozer Luxury Sofa Bed
This bed is great for pets that like to sleep or rest on sofas. It comes with a layer of orthopedic foam on the pillow. It also has bolsters to provide support for his head and body.
Sizes: Small, Large, X-Large
Weight: 15 Lbs.
Outside Dimensions: S-20″ x 30″ x  8″, L-30″ x 40″ x 11″, XL-36″ x 54″ x 13″
Inner Dimensions: S-14″ x 19″, L-20″ x 26″, XL-24″ x 34″
Colors: Anthracite, Black, Buckskin, Camel, Hotfudge, Laurel Macha, Olive, Palmer Indigo, Pink, Red, Superflauge, Tempest Indigo, Tempest Spring, White
Machine Washable: Yes
#5. Majestic Pet Products Bagel Donut Bed
This great round bagel bed is ideal for small to large size dogs under 100 lbs. that like to curl or cuddle when sleeping. It comes in 4 sizes and 7 colors. It is made with waterproof Denier base to protect the bed from accidents.
Sizes: Small, Medium, Large, Extra Large
Dimensions: (Small Outer 24 x 19 x 7 Inner 18L x 11W); (Medium Outer 32 X 18 Inner 24L x 18W); (Large Outer 40L x 29W Inner 30L x 18W); (XL Outer 52L x 36W Inner 46L x 30W)
Colors: Black Velvet, Chocolate, Gray Velvet, Navy Velvet, Rust, Sage, Stone
Machine Washable: Yes
#6. Buddy Rest Juliet Orthopedic Dog Bed
This bed will serve medium to large size dogs very well. Helps dogs with mobility issues and relieves arthritic pain. Comes in 2 colors and three sizes. Material is waterproof and has a non-slip bottom. It also comes with a 10-year warranty.
Sizes: Medium, Large and Extra Large
Dimensions: M-34 x 23 x 5, L-38 x 30 x 5, XL-50 x 34 x 5
Colors: 2 (Fathom, & Macha)
Machine Washable: Yes
–
Shop Rectangular Dog Beds Made In USA
Below are bed brands that sell rectangular dog beds and pads made in the USA.
Go back to the Dog Luxury Beds home page.